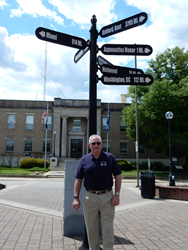 We have had the opportunity to host the Brits and show them many interesting and historic sites around Virginia
Hopewell, VA (PRWEB) May 29, 2015
The British are coming! More specifically, the Friends of Hopewell from Ashford in Kent, England, will be coming to Hopewell, Virginia, October 7 -14. This is the 21st year of the British exchange program with the Hopewell Twinning Association.
Twinning with Ashford, England.
The Hopewell Twinning Association was incorporated in 1994, with encouragement from former Hopewell Mayor Paul Karnes and former City Manager Clint Strong. They formed a small committee, which decided upon Ashford in Kent, England, a city with many similarities to Hopewell.
Located on the Great Stour River about 60 miles south of central London, Ashford has a population of 74,000. Like Hopewell, the British town has a manufacturing base which includes chemicals, cosmetics, fertilizers, glass fibers, rubber, foam products and plastic pipes.
Ashford is also the birth place of Captain Francis Eppes, a founding father of Hopewell. Receiving a land grant from the King of England in 1635, Eppes and his family immigrated to the New World and established Appomattox Plantation at the confluence of the James and Appomattox Rivers in Virginia. Today Appomattox Plantation is one of the oldest existing estates in America. A major tourist attraction, the estate is now part of Petersburg National Battlefield. General Ulysses Grant maintained his headquarters there from 1864-65 during the siege of Petersburg.
Background of Hopewell Twinning Association:
Kenneth Emerson, current president of the Hopewell Twinning Association, has been a member since 2008. He describes his involvement as a very enjoyable relationship with the members of "Friends of Hopewell," the Ashford Twinning Association. "We have had the opportunity to host the Brits and show them many interesting and historic sites around Virginia and we have been overwhelmed by the hospitality and tours of landmarks, castles and museums when visiting Ashford," Emerson said.
The Hopewell Twinning Association is a non-profit organization of 50 members from the City of Hopewell, Prince George and Chesterfield Counties. Also, there are two Eppes descendants from Georgia and South Carolina who are members. Now in its 21st year, the Hopewell Twinning Association is raising funds to host the delegation from Ashford in October. They have already sponsored a community yard sale of 15,000 items and a pig roast..
When the British delegation arrives, they will be hosted in the homes of Hopewell Twinning Association members and will be taken to tourist sites in the area. "Today's English visitors love Jamestown, where the English first landed in 1607," said Emerson. "They are fascinated with the archaeological digs at Jamestown. In fact, one of the members of the Friends of Hopewell has developed a relationship with the lead archaeologist."
"When we go to Ashford, they take us to castles that are thousands of years old," Emerson said. "On one of their visits here we took them to a powwow at the Pamunkey Indian reservation. It was a regional powwow of different tribes."
A delegation from Hopewell will visit Ashford next year. Also, the Hopewell Twinning Association sponsors trips for students from Hopewell to visit Ashford. No date is set for the next exchange to Ashford though there is discussion ongoing to send a group as soon as the money is raised.
A monument to the twinning alliance stands in Hopewell's Ashford Square across from the City's administrative building. There is also a directional sign in Ashford Square pointing to Ashford - 3795 miles, Washington DC- 112 miles, Richmond - 8 miles and Appomattox Manor- 1 mile. Locations on the sign form the itinerary for the British visitors. The directional sign was dedicated in 2013 for the 20th Anniversary of Hopewell-Ashford Twinning.
About Hopewell/Prince George, Virginia:
Hopewell-Prince George, Virginia, is located 20 miles south of Richmond, Virginia, situated on 35 miles of historic riverfront on the Appomattox and James Rivers. Hopewell-Prince George is just off Interstate 295 between Richmond and Williamsburg and has major transportation arteries running through it – Route 10, Route 460, and I-85.
For more information on visiting the Hopewell/Prince George area of Virginia, call 800-863-8687 or visit http://www.visithpg.com/.