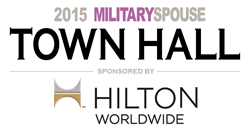 "The Town Hall is a great day for young spouses from around the country to meet many of the leaders in the Military Spouse and Veteran community," said Suzie Schwartz, Vice President of Military Spouse Programs
Pittsburgh, PA (PRWEB) May 07, 2015
Military Spouse magazine will host its third annual Military Spouse Town Hall event (previously named the Military Spouse Caucus) on May 7, 2015 in the Washington, D.C. area, one day prior to the announcement of this year's 2015 Armed Forces Insurance Military Spouse of the Year®. Victory Media, publisher of Military Spouse, and Town Hall title sponsor Hilton Worldwide welcome Rosemary Williams, Deputy Assistant Secretary of Defense for Military Community and Family Policy, as the keynote speaker. Ms. Williams is responsible for policy, advocacy and oversight of all community support to service members and their families, including quality of life issues, state liaison initiatives, family programs, family assistance services, child development and youth programs, and military spouse career advancement, among others.
The Town Hall is a one-day event leading up to the Military Spouse of the Year® awards celebration. During the event, military spouse Branch and Base winners from around the globe gather to discuss important issues with government, business and service organization leaders as elected representatives of the spouse community. This year's agenda will cover a range of topics including leading through service, working with service organizations, a networking panel and "spouses around the table" discussion featuring stories by contributing military spouse authors about their experiences and ideas for inspiring change in their local communities.
"The Town Hall is a great day for many young spouses from around the country to come to DC and meet many of the leaders in the Military Spouse and Veteran community," said Suzie Schwartz, Vice President of Military Spouse Programs. "The very best part of the day is always the time they spend with each other. Most have never actually met in person before this event."
"Hilton Worldwide is proud to be the title sponsor of the Town Hall for the military spouse community. We acknowledge and value the unique skills, talents, and traits that military spouses possess and employers seek. We also appreciate their unique needs, which is why we have such a strong commitment to hiring spouses in creative ways that help them build a career," said Rodney Moses, Vice President, Recruitment, Hilton Worldwide, title sponsor of the Town Hall. "They are some of the best Team Members we've hired in our organization and we're honored to support a forum that promotes discussion and collaboration around issues that concern military spouses."
For more information and to stay up to date with military spouse news and events, visit
http://www.militaryspouse.com.
# # #
About Military Spouse
Military Spouse magazine and http://www.militaryspouse.com, published by Victory Media, is the leading national magazine and online destination for the nation's 1.1 million military spouses. Victory Media, a service-disabled veteran-owned business also publishes G.I. Jobs® (http://www.gijobs.com) and Vetrepreneur® (http://www.navoba.com) for the military community.
About Hilton Worldwide
Hilton Worldwide is a leading global hospitality company, spanning the lodging sector from luxury and full-service hotels and resorts to extended-stay suites and focused-service hotels. For 95 years, Hilton Worldwide has been dedicated to continuing its tradition of providing exceptional guest experiences. The company's portfolio of eleven world-class global brands is comprised of more than 4,200 managed, franchised, owned and leased hotels and timeshare properties, with more than 690,000 rooms in 93 countries and territories, including Hilton Hotels & Resorts, Waldorf Astoria Hotels & Resorts, Conrad Hotels & Resorts, Curio - A Collection by Hilton, DoubleTree by Hilton, Embassy Suites Hotels, Hilton Garden Inn, Hampton Hotels, Homewood Suites by Hilton, Home2 Suites by Hilton and Hilton Grand Vacations. The company also manages an award-winning customer loyalty program, Hilton HHonors®. Visit news.hiltonworldwide.com for more information.
To arrange interviews, contact:
Barbara Pflughaupt, BP Media Relations, LLC, at 212-707-8181