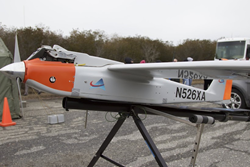 Newark, NJ (PRWEB) February 17, 2015
WHAT: In January, NJIT and partners were the first team to conduct unmanned aircraft systems (UAS) flights in the state under a Federal Aviation Administration (FAA) program to test the feasibility of safely integrating drones into national airspace and to assess the research and operational capabilities of communications and mapping sensors aboard the craft. Several months before, NJIT was the first New Jersey institution to receive a Certificate of Waiver/Authorization (COA) from the Federal Aviation Administration to conduct UAS test flights in national airspace.
WHO: Michael Chumer, a research professor of information systems at NJIT and director of the Crisis Communication Center and of UAS Applied Research for the university, is available to discuss the FAA's proposed regulations of commercial UAS.
CONTACT: Professor Chumer can be reached by e-mail at michael(dot)chumer(at)njii(dot)com or by telephone at 973-444-4417.
WHY: Unmanned aircraft presently fly in public airspace under very controlled conditions. The Department of Homeland Security, for example, conducts border and port surveillance by UAS. These vehicles are not authorized to fly in areas over major urban zones with the highest air traffic densities. The FAA, charged by Congress with testing drone safety and coming up with recommendations to regulate them, developed the COA process in 2012.
This month, the FAA proposed safety rules for small UAS (under 55 pounds) conducting non-recreational operations. The regulations would limit flights to daylight and visual-line-of-sight operations, and address matters such as height restrictions, operator certification, aircraft registration and marking, and operational limits, among others.
About NJIT
One of the nation's leading public technological universities, New Jersey Institute of Technology (NJIT) is a top-tier research university that prepares students to become leaders in the technology-dependent economy of the 21st century. NJIT's multidisciplinary curriculum and computing-intensive approach to education provide technological proficiency, business acumen and leadership skills. With an enrollment of more than 10,000 graduate and undergraduate students, NJIT offers small-campus intimacy with the resources of a major public research university. NJIT is a global leader in such fields as solar research, nanotechnology, resilient design, tissue engineering and cyber-security, in addition to others. NJIT ranks fifth among U.S. polytechnic universities in research expenditures, topping $110 million, and is among the top 1 percent of public colleges and universities in return on educational investment, according to Payscale.com.