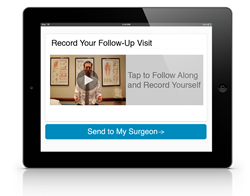 ...our customers will deliver a whole new level of patient engagement, education and collaboration...
Baltimore, MD (PRWEB) March 11, 2015
ViiMed® and GRAVIDI partnership unites automated workflow and asynchronous interactive video to elevate the telehealth industry.
ViiMed®, an asynchronous workflow platform that combines telehealth and care coordination capabilities for healthcare organizations, has partnered with GRAVIDI, Inc. to expand its video engagement capabilities. GRAVIDI, a premier secure video browsing platform, enables ViiMed's® clients to enhance the patients' interactive video experience through advanced video-viewing technology for its growing customer base of healthcare providers.
Telehealth, the migration of traditional healthcare services to online, virtual experiences, continues to grow as providers look for innovative ways to better manage their time, leverage their expertise, and meet the needs of their patients without sacrificing personal relationships and engagement opportunities. ViiMed® enables health systems to scale, coordinate and personalize virtual interactive patient care by uniting asynchronous (at-home) workflow and video collaboration through its private-labeled and HIPAA-compliant web and mobile platform.
ViiMed's® provider video library currently offers a traditional viewing experience for patients that features educational content, instructional guidance, and personalized commentary. Through its partnership with GRAVIDI, ViiMed® will be the first healthcare software company to strengthen its video capabilities through the latest advancements in interactive, layered video technology.
GRAVIDI's video authoring tools and interactive publishing platform maintain the original essence of a video, while adding multiple layers of companion content within the single video instance. Video creators can easily feature related original written content, instructions, graphs, and charts at customized, relevant points during the video in an unobtrusive manner to the viewer.
"When we combine this tightly integrated version of GRAVIDI's proven, interactive video technology with our workflow capabilities, our customers will deliver a whole new level of patient engagement, education and collaboration," said Phil Newman, CEO. "Through this close partnership with GRAVIDI, we will amplify our workflow-based telehealth capabilities, and enable our clients to drive even better outcomes in the areas of pre- and post-surgery, chronic disease management (wellness) and hospital post-discharge."
"ViiMed® really is breaking new ground, disrupting how healthcare is delivered. We are very excited to support this next generation of video collaboration for ViiMed®. The goal of this integrated solution is to bridge the gap between static video and self-directed, customized viewing experiences, and it aligns perfectly with ViiMed's® commitment to offer a superior virtual healthcare experience," said Christopher Nickerson, CEO of GRAVIDI.
About ViiMed®
ViiMed®, the leader in workflow-enabled asynchronous telehealth and care coordination, is a rapidly growing privately held, D.C.-based company. The team is incredibly dedicated to guided patient empowerment at-the-home, improving healthcare financial and health outcomes for health systems and provider groups. To learn more about ViiMed®, please contact Daniella Morinigo at dmorinigo(at)viimed(dot)com or visit ViiMed.com.
About GRAVIDI
GRAVIDI, Inc., founded in 2012 is a privately held company headquartered in Baltimore, Maryland. We deliver a secure video browsing platform that allows content producers/publishers to insert contextually relevant data inside each of their streaming videos. Our patented Display Layer Technology facilitates a simultaneous user-driven browsing experience. GRAVIDI produces dynamic, deeper video experiences that can be embedded anywhere. For more information, visit http://www.gravidi.com