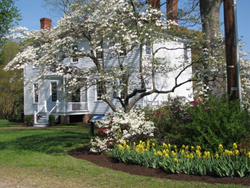 Hopewell/Prince George, Virginia (PRWEB) March 26, 2015
Flowers, quilts, sweets and savories will welcome visitors to Hopewell/Prince George, Virginia, during Historic Garden Week, April 18 - 25.
In Hopewell, 18th Century Weston Manor will open Historic Garden Week in Virginia and its spring season with a tea sponsored by the Appomattox Garden Club on Sunday, April 19. The tea, which runs from 3 to 5 p.m., includes homemade heritage recipe sweets and savories, tea and punch. Members of the Appomattox Garden Club decorate the three floors of the manor house with fresh seasonal arrangements, chosen to complement the decor of each room. Gifts are available at the All Manor of Things boutique. The arrangements will remain in place through April 25.
Weston is the only 18th century plantation house remaining on the Appomattox River. Built in 1789 and located within the National Historic District of Hopewell, the plantation is just around the river bend from City Point, the oldest part of the city, dating back to 1613. Civil War buffs will recognize City Point as the site of the headquarters of General Ulysses S. Grant during the Siege of Petersburg in 1864-65 – a scene depicted in the Lincoln movie filmed here in 2011.
In nearby Prince George County, Virginia, the Regional Heritage Center will feature "A Garden of Quilts" April 18 - 25 as a unique Garden Week Exhibit. The free exhibit will feature hand-made decorative quilts – all regional family treasures on loan from local families. Local gardeners and the Wonder City Garden Club are designing floral arrangements to coordinate with the quilt display. The exhibit will be open from 10 a.m. to 4 p.m. daily at the Center, 6406 Courthouse Road in Prince George.
Three private homes in Prince George County will be open on Tuesday, April 21, as part of a driving tour for Historic Garden Week. The homes include the President's House at Richard Bland College and two 21st century homes: a brick Colonial style home built in 2002 and an American Craftsman-style home built in 2001.
The Prince George homes are included in a tour which includes Centre Hill Mansion, c. 1823, in Petersburg, the scene for several movies, including Killing Lincoln; The Abolitionist; Meg's Ryan's Ithaca, a World War II era film; and the AMC spy series Turn. Canterlope Farms in Dinwiddie County will be open, with complimentary tea served from noon to 4 p.m. Also, Gary's United Methodist Church in Petersburg will host a gourmet luncheon and fashion show from 11:30 a.m. to 2 p.m.
About Hopewell/Prince George, Virginia:
Hopewell/Prince George, Virginia, is located 20 miles south of Richmond, Virginia, situated on 35 miles of historic riverfront on the Appomattox and James Rivers. Hopewell-Prince George is just off Interstate 295 between Richmond and Williamsburg and has major transportation arteries running through it – Route 10, Route 460, and I-85.
Visitors to Hopewell/Prince George can experience plantation life, explore outdoor trails by foot or bicycle, and land a blue catfish in the James or Appomattox Rivers. Boating, kayaking and river tours are available at four marinas. Visitors can dine or catch a dockside concert or see name musical acts at the restored Beacon Theatre. At City Point, which is part of the Petersburg National Battlefield, visitors can witness re-enactments of major historic events from Colonial times to the Civil War.
Visitors can also snap a photo in front of the LOVE sign at the Hopewell/Prince George Visitor Center. The sign is part of the Lovework program, a statewide branding initiative sponsored by the Virginia Travel Corporation. The LOVE theme ties the Hopewell/Prince George area into the "Virginia is for Lovers" messaging, which has been recognized nationally and internationally for 45 years.
Historic Garden Week brochures are available for pick-up at the Hopewell/Prince George Visitor Center, 4100 Oaklawn Blvd. in Hopewell. For more information and ticket-pricing on Garden Week events, call 800-863-8687, email tourism(at)visithpg(dot)com or visit http://www.visithpg.com.