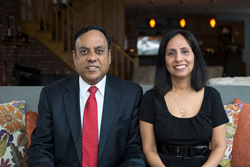 We're proud to invest in the future scientists and business leaders who study at UW-Stout.
Menomonie, Wis. (PRWEB) March 31, 2015
University of Wisconsin-Stout and Vets Plus, Inc. are pleased to announce that one of the university's microbiology laboratories in the Jarvis Hall Science Wing has been named in honor of Rajiv and Swati Lall. Raj Lall is the President & CEO of Vets Plus, Inc., a leading contract research and manufacturing organization dedicated to animal health and nutrition.
The Lall's donation will fund current laboratory equipment needs and create an endowment for ongoing support of research at the university. Raj Lall said, "We're proud to invest in the future scientists and business leaders who study at UW-Stout." The Rajiv and Swati Lall Microbiology Lab serves 2,000 students and faculty each day.
Vets Plus, Inc. was started in Menomonie in 1990 and moved to Knapp shortly after. The company now operates in three facilities, with corporate headquarters in Menomonie. "As Vets Plus has grown, we have always focused on the science behind each formulation, so research is very important to our business," said Raj Lall. He said contributing to UW-Stout was a way to support and encourage research initiatives locally, adding, "Swati and I are pleased to support these students who are doing brilliant work with potential for great impact on the future of health for both humans and animals."
A plaque marking the lab in honor of the Lalls will be installed in spring 2015.
High-resolution images available upon request.
About Vets Plus, Inc.
Vets Plus, Inc. (VPI), located in Menomonie, Wisconsin, is a leading manufacturer of health and nutritional supplements for both food and companion animals. With over 20 years of experience, Vets Plus creates custom formulations for contract manufacturing of innovative probiotic, prebiotic, nutritional, and nutraceutical products in a wide variety of feeding forms. Vets Plus is proud of its continued growth into a leader within the animal health industry and ability to manufacture a wide range of products while maintaining SQF Code 7.2 Level 3, ISO-9001:2008, and NASC certifications. Vets Plus is a member of the National Animal Supplement Council (NASC), American Pet Products Association (APPA) and American Feed Industry Association (AFIA).
###