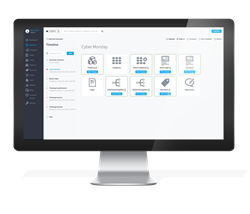 We know Releases' enhancements will help clients sleep easier at night.
PHILADELPHIA, Pa. (PRWEB) October 15, 2015
WebLinc, the commerce platform provider for the fastest growing online retailers, announced the expansion of Releases, the most comprehensive scheduling system in the ecommerce landscape.
Based on years of experience working directly with retail ecommerce teams, Releases is a robust scheduling system developed for retailers to manage their ecommerce site changes easier and faster. It brings a simplified set of tools for making big changes to a site, eliminating the need for difficult workarounds or waking up in the middle of the night to press launch.
The additions to Releases enable retailers the capacity to sync product and site-wide alterations seamlessly. All of the tools are quickly accessible within WebLinc's easy-to-use administrative interface, helping retailers realize dramatic time savings through the following and more:

Discounts and products can now be timed to go live with Releases
Smart Categories, offering custom rule-based product categorization, can now be set to go live with Releases
Offline preview of full site release with in-depth changelog added
Undo function automatically rolls back to the previous site release
Increased offline previewing capabilities allow for improved approval workflows
"The usability and power of WebLinc's Releases functionality is unlike any other in ecommerce. Working directly with our clients has helped us to understand the challenges they face keeping their site in sync with rapidly changing retail operations. The newest improvements to Releases stem from our anticipating their needs and helping their teams get more done," said Darren Hill, CEO and co-founder of WebLinc. "We know Releases' enhancements will help clients sleep easier at night."
These updates to WebLinc's Releases system further allow retailers the ability to prepare for the rapid changes required to keep pace with promotional and holiday schedules. Additional upgrades include real-time previewing while editing content, a simplified overall workflow and detailed tooltips to improve user experience.
About WebLinc
WebLinc is the commerce platform for fast growing online retailers. Mid to large-size retailers consistently outpace their competition with the modern, agile technologies of the WebLinc Commerce Platform and the company's strategic expertise. Based in Philadelphia with satellite offices in New York, and Toronto, WebLinc powers commerce sites for dynamic, high-growth retailers including URBN's brands Free People, Terrain and BHLDN, U.S. Polo Assn., Thomas Scientific, Jeffers Pet, Sanrio/Hello Kitty and others. To learn more, visit http://www.weblinc.com or follow @WebLinc.