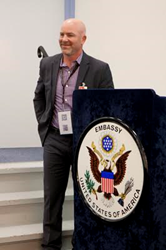 no industry is immune to hacking and other cybercrimes...
Ogden, Utah (PRWEB) November 16, 2015
Trust Guard has launched a European website, http://www.trustguard.eu, to further their existing global reach and better accommodate their international clients. On October 14th, 2015, Vice President of Business Development, Todd Brandley, kicked off the new website with a visit to The Hague, Netherlands where he spoke at the US Embassy about data and security.
Trust Guard, a leader in website security and data protection, has provided merchants with tools to keep their websites safe, secure, and converting, for over a decade in the United States and globally. While the company has made their products and services available all over the world for many years at http://www.trust-guard.com, they recently saw an opportunity to improve their international client's experience with a multi-lingual site. Now, Trust-Guard's products and services will be available on http://www.trust-guard.eu and http://www.b2u.nl, a partner located in the Netherlands, in both Dutch and English. Trust Guard plans to add German, French, Spanish, and more languages in the very near future.
"Launching our new website could not have happened at a better time. We are eager to broaden our horizons, and help merchants all over the world to easily secure their website, reduce their liability, and give them the safety and peace-of-mind they deserve," said Brandley.
During his presentation at the US Embassy, Brandley discussed website application attacks, and important preventative measures to protect website data and POS (point-of-sale) terminals from hacking attacks. Brandley spoke alongside security experts such as Kevin M. McCleary, security officer of the US Embassy and former member of the secret service, and Hans Bouman, PCI specialist and owner of Business To You. Among the many guests in attendance were CEO's and representatives from hosting companies, payment providers, and eCommerce experts. Top CEOs interested in cybersecurity also attended the event.
"The wide range of industries present at the conference, from banking to telecom hosting, health, insurance, hospitality and more demonstrate that no industry is immune from hacking and other cyber crimes. It was a pleasure to participate in such an important event and I am truly honored to have had an opportunity to speak about a topic as crucial as security among so many respected experts in the field," said Brandley.
About Trust Guard:
Trust Guard has over 15 years of experience in eCommerce and security. Trust Guard started in 2006, helping companies build trust and make more sales online. Founders, Dave and Scott Brandley, have worked hard to help make the world a little bit more trustworthy, through Third-Party Verification and website Security Scanning. Trust Guard protects data, reduces liability, and increases sales, so business owners can enjoyed a boost in conversion rates and peace-of-mind.
For more information about Trust Guard, or Trust Guard's new website:
Contact Todd Brandley 1-877-848-2731
visit http://www.trust-guard.com.