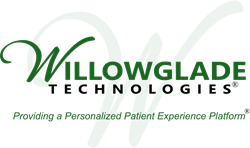 Deployed on Microsoft Azure, Willowglade Technologies Personalized Patient Experience Platform will be deployed globally
Orange County, California (PRWEB) June 10, 2015
Expert data recently released has shown that patients' knowledge about their own cancer was generally poor, particularly for minorities. Results of the survey conducted by a leading cancer institute in Boston1 demonstrates a clear lack of understanding on the part of many patients about their cancers. The research team concluded that there is an identified and critical need for improved patient education and provider awareness. The survey was conducted among 500 women with breast cancer.
Willowglade Technologies is addressing this issue head on with its Personalized Patient Experience PlatformTM, which has been deployed on Azure.
"The data and analysis recently published in Cancer, a peer-reviewed journal of the American Cancer Society, illustrates the need to dramatically improve the quality and effectiveness of education for cancer patients supporting their diagnosis and treatment" said John Papandrea, CEO and President of Willowglade Technologies. "By providing our platform to healthcare providers, payors and pharmaceutical organizations on Azure, we have a high degree of confidence in our ability to rapidly scale globally as demand for our platform grows."
"Healthcare is a rapidly changing environment, and the diagnosis and treatment of cancer is evolving rapidly," said Vibhor Kapoor, Director of Product Marketing, Microsoft Azure. "The Willowglade Technologies Personalized Patient Experience Platform will make a significant contribution to the way in which cancer patients learn, understand and collaborate around their diagnosis and treatment, and we are proud that Azure is the basis for this platform."
Azure runs on a growing global network of Microsoft-managed datacenters across 19 regions, giving Willowglade Technologies a wide range of options for running applications and ensuring their customers always get great performance. Azure is the only major cloud platform ranked by Gartner as an industry leader for both infrastructure-as-a-service (IaaS) and platform-as-a-service (PaaS).
The Personalized Patient Experience Platform empowers patients to manage the clinical, social and emotional aspects of their diagnosis and for healthcare organizations to optimize their patient engagement experience. Much more than a "Patient Engagement Platform", Willowglade Technologies has leveraged the platform to create the "My Breast Cancer Journey" app, which is now available in 43 countries around the world in both Spanish and English.
About Willowglade Technologies Corporation. Willowglade Technologies is a provider of mobile solutions to the oncology community, with a focus on enabling patients to better understand their clinical and emotional situation, while enabling a social network with invited friends and family members.
No part of this publication may be reproduced or transmitted in any form or for any purpose without the express permission of Willowglade Technologies Corporation. The information contained herein may be changed without prior notice. Some software products marketed by Willowglade Technologies Corporation may contain software components licensed from other software vendors. Willowglade Technologies and Willowglade Technologies products and services mentioned herein, as well as their respective logos are trademarks or registered trademarks of Willowglade Technologies Corporation. Willowglade Technologies", "Personalized Patient Experience", "Empowering Patient Recovery", the Tree Logo, the CJA logo, "cancerjourneyapps.com" and "because every cancer diagnosis is a journey" are trademarks of Willowglade Technologies Corporation.
Willowglade Technologies – 30211 Avenida de las Banderas, Suite 200, Rancho Santa Margarita, CA, 92688. For information email info@willowgladetechnologies.com.
1. http://ecancer.org/news/6881-many-women-with-breast-cancer-have-poor-knowledge-about-their-condition.php