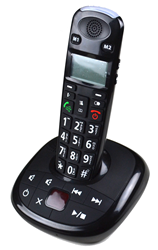 We developed the A700 so you can focus on your conversations instead of struggling.
Naperville, Ill. (PRWEB) January 28, 2016
ClearSounds Communications, the leading manufacturer of listening devices for people with hearing loss, announced today that their popular A500 Cordless Phone has been replaced by the new and improved A700 DECT 6.0 Amplified Cordless Phone with Answering Machine.
"Connecting with family and friends is a significant part of life. Hearing loss can make phone calls stressful and frustrating if you aren't using an amplified phone with adjustable tone and volume settings," says ClearSounds President & CEO Michele Ahlman. "We want everyone to enjoy clear and easy phone calls with loved ones and keep people connected, so we developed the A700 so you can focus on your conversations instead of struggling."
The A700 allows users to create their ideal customized sound experience, providing up to 40 dB of incoming sound amplification, five-level ringer volume control, 10 ringtone options and fully-adjustable volume and tone levels, ensuring that each call is tailored specifically to each user's unique preferences. Another convenient feature of the A700 is the ability to add up to four additional expansion handsets, which can be purchased separately or as part of the A700 Amplified Cordless Bundle.
For anyone seeking enhanced landline communication with the freedom of portability within the home, the A700 is an exciting cordless solution. The A700 includes a big-button keypad, T-coil compatibility, 3 one-touch memory dial keys, bright visual ringer with handset vibration, handset flashlight, alarm clock with snooze function, adjustable speakerphone, programmable one-touch SOS key and a digital answering machine with remote access.
Pricing & Availability
The all-new A700 DECT 6.0 Amplified Cordless Phone with Answering Machine will be available beginning in February 2016 through the ClearSounds online store at http://www.ClearSounds.com or ClearSounds' Customer Solutions Team at (800) 965-9043, in addition to select authorized retailers and hearing care professionals. The A700 phone will retail at $149.95. More information about the A700 and its expansion handsets, as well as other products like the Quattro 4.0 Adaptive Bluetooth System and QLinkTV Bluetooth Stereo Audio Transmitter, can be found at http://www.ClearSounds.com.
About ClearSounds
ClearSounds Communications, based in Naperville, Ill., is a privately-held, family-run and women-owned company that has been creatively, stylishly and economically meeting the needs of people with hearing loss for over 30 years. By designing, engineering, manufacturing, marketing, selling and distributing a complete line of communication, sound enhancement and audio products, ClearSounds is leading the way in cutting-edge technology for individuals with mild-to-moderate hearing loss and anyone seeking a remarkable sound experience. Visit ClearSounds.com to learn more. ClearSounds: Better Sound in Every Ear®.