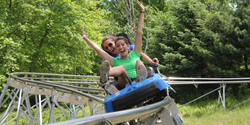 It's a different experience than your typical coaster
Branson, MO (PRWEB) April 22, 2016
Work has begun on the keystone of a new adventure park in Branson.
The Branson Mountain Coaster is the first of many planned attractions at "Branson Adventure Park". Mountain coasters are not well known in the United States but have been popular in Europe for nearly a decade. Originally used on ski slopes during the summer months, this mountain coaster is a permanent attraction that will transform a massive hillside on South Hwy 165 into a twisting thrill ride. According to project manager Matt Meadows, "This is about the only thing you could build on a sloped property like this, but for us it's perfect."
In addition to thrills, the developers are planning on being friendly to the environment too. According to developer Mark Ruda, "You can use a 15-percent sloped property and not have dramatic impact on it, so it's kind of a win-win." Most of the natural forest covering the slope is being left in place while the coaster rails zig and zag around trees through twists and turns. The developers intend to use the trees and other natural features to further increase the thrill of the ride.
"The way it goes through the woods and kind of stays close to nature, it's kind of a different experience than your typical coaster," Meadows said. The track will span more than 5,000 feet including a total of 350 feet of elevation change from top to bottom allowing riders to get close to 30 mph which will seem even faster due to the natural terrain.
Visitors will ride in individual carts and will have some control over their speed and the level of thrill they receive. Each cart has a manual hand brake for individual control and an automatic braking system that will keep riders safe from top to bottom.
In addition to the Branson Mountain Coaster, developers hope to continue adding attractions based on nature and the outdoors as the business grows. The main focus will be to continue focusing on the new crop of visitors Branson has been attracting - Families and Millennials who enjoy thrills, teen-friendly activities, and are sensitive to natural preservation. The Coaster is currently on track for a July opening.