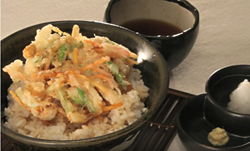 Ideal for people who want to use cooking to combat the health risks of high blood pressure, high blood sugar, and metabolic syndrome.
(PRWEB) October 24, 2016
Foodies and nutrition experts are getting acquainted with Japanese food beyond ramen and sushi. Traditional Japanese cuisine, or Washoku, is centuries old but gaining popularity around the globe for its:

Seasonal ingredients
Mindful preparation
Medicinal cooking approach
Colorful, aromatic dishes
Free Recipe Videos
On September 22, 2016, NJK Inc. launched the Health Kitchen Washoku Cuisine website. http://www.healthkitchenwashoku.com is filled with step by step videos for Washoku Yakuzen (traditional medicinal cooking). Japanese nutrition experts designed these recipes to make your body happy and healthy through the power of food.
Washoku Yakuzen: The Next Big Trend in a Health-conscious World
The focus is attentively preparing nutritional food for healthy digestion and bodies. Washoku cools and warms the body, promoting good digestion and the removal of toxins. Best of all: it is delicious! Ideal for people who want to use cooking to combat the health risks of:
Obesity
Hypertension/ high blood pressure
High blood sugar levels
Metabolic syndrome
"We have main three purposes for the website," said Hiromi Iwasaki, Marketing Manager for Health Kitchen Washoku. "We want to help people stay healthy, prevent sickness, and recover from illness. That's why we hired one of the top dieticians in Japan to develop our recipes. I especially like the tempura bowl."
Ready to hit the kitchen? Contact us with any questions about the recipes or the Washoku trend!