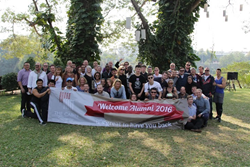 (PRWEB) February 24, 2016
February 10th Former clients of The Cabin Chiang Mai – Asia's leading addiction treatment center – travelled to Chiang Mai, Thailand from America, Europe, the Middle East, and Australia and around Asia to attend the rehab's annual Alumni Reunion event.
The half-day celebration opened with a welcome speech by Program Director Alastair Mordey, author of The Cabin's highly effective and hugely successful treatment program Recovery Zones. Then two alumni took to the podium to share their recovery journey with their peers as well as current clients who were in attendance at the function. This was followed by a celebratory lunch featuring an international buffet, during which former clients reconnected with their counselors while enjoying traditional Thai dances as entertainment.
After lunch, The Cabin's head counselor Rory Magee also shared amusing yet memorable moments from his own 20+ year recovery journey with the crowd. Then came the highlight of the day – a lucky draw of Recovery Encouragement Gifts brought by the alumni for The Cabin's current clients as a token of encouragement to persevere with treatment.
The event concluded with a "Clean Time Countdown", where clients and counselors participated by counting the years, months or weeks they have stayed sober to rounds of encouraging applause.
The Cabin Chiang Mai is an exclusive substance and process addiction treatment centre with 50 beds and resort-style facilities that has successfully treated over 1,500 clients from around the world with a 96% program completion rate. Its success is attributed to its holistic treatment model that incorporates a culturally friendly version of the 12 Steps, along with CBT and mindfulness therapy – which is administered by a highly experienced team of Western-trained psychiatrists, psychologists and counselors.
For more information, please contact The Cabin Chiang Mai directly or their PR representative:
The Cabin Chiang Mai
Reeya Chaicharas, PR Manager
+66 (0) 82 8938580, reeya@thecabinchiangmai.com
Edelman Healthcare
Smitha Ramamurthy, Account Manager
+61 (0) 2 9241 3131, Smitha.Ramamurthy@edelman.com
About the Cabin
The Cabin Chiang Mai is Asia's most respected inpatient drug and alcohol treatment center, with two facilities and a secondary treatment Sober House located in Chiang Mai. Since 2010 the Cabin has treated over 1,500 men and women from around the world with a program completion rate of 96% and a recovery rate amongst the highest in the world.
The unique program at The Cabin uses a combination of CBT, 3 Circles and a secularized version of 12 Steps; plus mind mapping, mindfulness therapy and physical exercise therapy. A fully inclusive 28 day program at The Cabin Chiang Mai costs $14,000, about a third of the cost of private rehabs in the West.