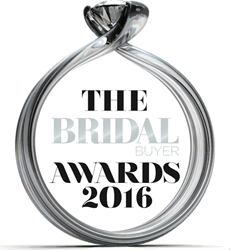 (PRWEB UK) 4 August 2016
Now in its 25th year, the Bridal Buyer Awards continues to prove its dominance in the sector, as it recognises excellence throughout all aspects of the bridal industry. From the retailers who aim to deliver the best quality of customer service possible, to the suppliers who pride themselves on staying one step ahead with the latest, fashion-forward offerings. Being shortlisted for such a coveted trophy not only offers a sense of achievement for those finalists, but also provides the opportunity to carry the Bridal Buyer Awards emblem for the future, showcasing the high standards upheld by those Bridal Buyer Awards finalists and winners.
2016 sees Fleur de Lys Bridal named as a finalist in the 'Best Retailer England' category, with great ambition to be crowned the overall winner. There is tough competition as always, but the Saffron Walden-based bridal boutique is delighted to have been recognised as one of the top six bridal retailers in England. The continued hard work and dedication to each and every bride is reiterated by owner, Rebecca Ruggeri. "Every day, the team at Fleur de Lys Bridal works so hard to go the extra mile to make sure every bride who enters our boutique has an amazing experience and walks away with her dream dress. Seeing a bride wearing a gown from our store on her wedding day and getting such wonderful reviews from our customers is rewarding enough, so to be a finalist in this year's Bridal Buyer Awards is an incredible bonus."
The Bridal Buyer Awards 2016 final takes pace in Harrogate on 12 September. To find out more about why Fleur de Lys Bridal are a 'Best Retailer England' finalist, visit the website or call to make an appointment.