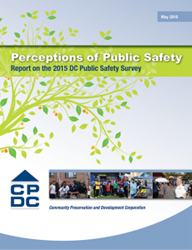 The findings from this survey offer an opportunity for residents and police to see where the problems are and work together toward solutions that can result in better and improved communications and levels of trust.
Silver Spring, MD (PRWEB) June 28, 2016
District of Columbia residents who live in Ward 8 feel the least safe of any in the city, are more likely to have observed or experienced a violent crime, and are least likely to trust police than others who live here.
Those are key findings from a new survey on public safety released today by the Community Preservation and Development Corporation (CPDC), a leading affordable housing not-for-profit with more than 2,700 units and 5,000 residents in Washington, DC; the Council for Court Excellence and the Local Initiatives Support Corporation.
The survey, conducted online and via face-to-face interviews with 909 people in every DC Ward last summer, was commissioned to create a baseline level of perceptions of public safety among city residents and to promote more collaboration with local police to identify strategies for improving it.
"Public safety is core to a community's quality of life," said Pamela Lyons, CPDC Senior Vice President for Community Impact Strategies. "Our goal with this survey is to identify what we need to do to strengthen partnerships between residents who live in communities across the city and the law enforcement officers who are supposed to protect them. Residents are ready to build stronger, trusting relationships with police and work together with them to create safer neighborhoods for themselves and their families."
Here are survey highlights:
Do residents feel safe?

During the day, most residents feel safe in their neighborhoods across DC; at night, most do not feel safe or only feel somewhat safe in non-enclosed spaces outside of a car or house.
Residents in Wards 2, 5, 7, and 8 were much less likely to feel safe in neighborhood parks and playgrounds than residents in Wards 1, 3, and 4.
Less than half of residents in Ward 8 feel safe on their neighborhood streets, on public transportation, and in parks and playgrounds.
Do youth feel safe?

Most students said they feel safe while in school. But less than six in 10 indicated they felt safe getting to or from school or at school-related events.
Youth in Ward 8 feel the least safe walking to school, riding a bus to school, or at school related events.
Who experiences neighborhood crime?

More than half of all residents indicated that during the past year they had observed or experienced some type of crime in their neighborhood. Respondents from Wards 7 and 8 as well as African Americans and Latino residents observed violent crime at much higher rates than others.
Younger residents experienced the highest rates of exposure to violent crime.
The percentages of African Americans experiencing or witnessing gun crime multiple times is four times that of White respondents.
How strong are relationships with local police?

One in 4 residents said they knew at least one police officer by name. However, few respondents who observed or experienced a crime called the police. More than one in five said they lacked confidence that there would be a positive response.
While most residents said they trust the police, younger respondents, Latino and African Americans and those who live in Wards 7 and 8 were least likely to trust the police.
Younger residents in Wards 7 and 8 were more likely to report negative interactions with law enforcement than youth in other wards.
The survey findings come amid heightened concern about rising rates of homicides in major cities nationally. While data from the DC Metropolitan Police Department show that property crime is down and violent crime is level in the District as compared to a year ago, there has been a troubling spike in homicides. According to a recent report for the Department, between 2014 and 2015, there was a 54% increase in the number of homicides across DC with the increase mostly concentrated in the Northeast and Southeast quadrants. Between January and May of 2016, the number of homicides in Ward 7 tripled from the rate during the same period a year ago.
The survey shows that more needs to be done. CDPC offered several recommendations for improving public safety and community police relations, including:

Create more opportunities for communication between neighborhood residents and law enforcement officers.
Have schools, residents and law enforcement work together to make sure all youth feel safe going to and being at school.
Have law enforcement meet with residents directly and engage in dialogue about what type of policing would be more appropriate and effective in the neighborhood.
Improve law enforcement training and practice and include young people in the planning so they become engaged and do not feel targeted by police.
Empower neighborhoods with clear and comprehensive public safety data so that residents can use it to collaborate with police to reduce crime.
CPDC launched the survey following a number of shootings on its properties in Ward 8. These incidents increased awareness of and concern about the safety and security of residents who live there as well as in surrounding neighborhoods. CPDC is leading a "Collaborating for Prevention" initiative to foster community-driven public safety plans so residents who work, live and play on their properties can thrive. CPDC is seeking funding to convene three community listening sessions during summer 2016. These sessions will focus on showing survey results and processing recommendations that could lead to the development of public safety plans.
"As a community developer that makes heavy investments in housing in Ward 8, we have a role in helping residents find their voice to create safer places. The findings from this survey offer an opportunity for residents and police to see where the problems are and work together toward solutions that can result in better and improved communications and levels of trust," said Lyons.
To read the full report "Perceptions of Public Safety, Report on the 2015 DC Public Safety Survey," click here.
Media Contacts:
Janet Firshein
301-280-5701
jfirshein(at)burness(dot)com
Lowell Dempsey
301-280-5741
ldempsey(at)burness(dot)com
About Community Preservation and Development Corporation:
For over 25 years, CPDC has served D.C., MD and VA as a leading not-for-profit real estate developer through the acquisition and redevelopment of award-winning affordable housing. We specialize in mixed-income and mixed-use developments, historic preservation, adaptive reuse and are recognized for innovative financing, green building design and public-private partnerships.
With more than 9,000 residents in over 5,000 apartment homes, CPDC is committed to the long-term success of our portfolio and our residents. We deliver innovative Community Impact Strategies (CIS) designed to help individuals and entire neighborhoods grow and thrive. CPDC is a community developer and proud member of NeighborWorks America, the nation's leading trainer of community development and affordable housing professionals.
About Council for Court Excellence:
Formed in Washington, DC in January 1982, CCE is a nonprofit, nonpartisan civic organization whose mission is to improve justice for the DC community. CCE is the research partner for the Collaboration. For over thirty years, CCE has been active in public safety issues; this has included surveying residents in the Trinidad neighborhood regarding public safety strategies being employed, developing policies to reduce recidivism and improve outcomes for returning citizens, and working with lawmakers and administrators to ensure the justice systems DC relies on are fair and effective.
About Local Initiatives Support Corporation:
For more than three decades, LISC has connected local organizations and community leaders with resources to revitalize neighborhoods and improve the quality of life for residents. LISC is dedicated to helping neighborhood residents create healthy and sustainable places of choice and opportunity – good places to live, work, raise children and conduct business. Since 1994, LISC's Community Safety Initiative has supported teams of community developers and law enforcement working to reduce crime and improve vitality in neighborhoods nationwide.