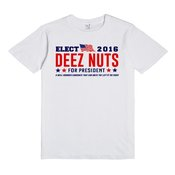 The supporter group that designed, released and printed the first t-shirt has had to extend the workload of its partners in order to keep up with the demand
Cleveland, OH (PRWEB) August 24, 2015
The media coverage that a 15-year-old Iowa boy, who is an official presidential candidate, has received over the past 10 days in the U.S. has been reported at the Brain Warp media website. A new report just published at http://brainwarp.net/2016-deez-nuts-shirts details how the 2016 Deez Nuts T-Shirts created by the official supporter group are almost sold out.
While some candidates turn to town hall meetings or informal gatherings, some independent and major party candidates not yet well known are using social media to organize support. The support garnered for the official 2016 Deez Nuts campaign shirt has been overwhelming and initial supply in stock has nearly been depleted, according to the BrainWarp.net report.
"The supporter group that designed, released and printed the first t-shirt has had to extend the workload of its partners in order to keep up with the demand," said one reporter at the Brain Warp website.
The current mainstream candidates in the Republican and Democratic Party were recently polled in Iowa and South Carolina to judge the overall likability factor of each person. One poll, that has since gone viral, has Deez Nuts retaining 15 percent favorability over some top candidates and polling 8 percentage points across the state of Iowa, according to the Brain Warp post.
"The national appeal of some candidates is being matched by Facebook and other Internet campaigns helping to boost the sales of official merchandise," the reporter included.
The Brain Warp company will continue to monitor the sales activity of official supporter campaigns by curating its posted news on its website. Consumers can now visit the homepage at http://brainwarp.net to remain informed about additional newsworthy topics.
About Brainwarp.net
The Brainwarp.net company publishes true, interesting, hilarious and general news articles on its syndicated website. Consumers who visit the company portal can learn about non-mainstream stories that are circulating the web. The Brainwarp.net company has a staff of writers who are now posting daily to the website to grow the company footprint in North American media.