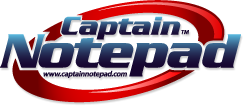 This Spring, stand out from the crowd with customized notepads that are high quality, functional, and of course eco-friendly
(PRWEB) March 31, 2016
Captain Notepad (http://www.captainnotepad.com), a producer of image personalized calendars, custom notepads, magnetic notepads, and other promotional items, today released its 2015 Earth Day promotion just in time for Spring.
"Earth Day reminds all of us to think about the product we use and how we can help our planet. When ordering customized notepads from Captain Notepad, you're receiving the highest quality products at a great price that is also good for the environment," notes Jace Rogat, President at Captain Notepad. He continues, "Eco friendly products can be used all year round. We offer a variety of products to fit your needs."
Now until April 22nd Captain Notepad will be offering 15% off all of its eco friendly customized notepad products. Use promo code EARTH to receive your discount. Items included in the promotion include Living Green Custom Magnetic Notepad, Eco Friendly Die Cut Notepads, and Recycled Paper Custom Notepad.
Earth Day is celebrated worldwide on April 22, and more companies than ever before are using "green" giveaways to promote their commitment to the environment while advertising their brand, product or event.
"This Spring, stand out from the crowd with customized notepads that are high quality, functional, and of course eco-friendly. It's the perfect promotional gift that keeps on giving all year round. Our Earth Day products offer our clients unique ways to brand their business and leave lasting impressions," notes Jace Rogat, President at Captain Notepad. He continues, "Using logoed giveaways made from green materials or that promote eco-friendly ideals to thank a client, kick off a new product launch or advertise a brand will promote good will that will last all year long. Each product can be customized with a logo, contact information, and color scheme, and uses recycled or Earth friendly paper."
Top Eco Friendly Products:
Living Green Magnetic Notepad. A reminder on how to live green using the 4 R's (Reduce, Reuse, Recycle, Renew)
Recycled Paper Customized Notepad. Full color customized notepad made on recycled paper.
Green Cleaning Solutions Magnetic Notepad. Give you detailed instructions on how to make eco friendly cleaning products for your home.
Click here for a full list of eco friendly custom notepad products to celebrate Earth Day. Enter promo code EARTH at checkout to receive 15% off all Earth Day products.
About Captain Notepad (https://www.captainnotepad.com)
Captain Notepad is the leading manufacturer of customized notepads and promotional items specializing in creative solutions to help brand a company's product and grow their business. Through competitive prices and great customer service, Captain Notepad has become the best source for custom notepads. What sets Captain Notepad apart is the short production time including rush production on most of the custom printed notepads.