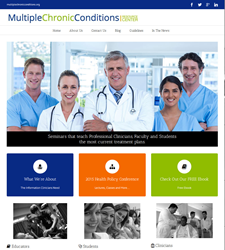 We are very excited to have Health Policy thought leaders from around the country coming to Savannah for the 2016 Health Policy Conference. Dr. Kim Kuebler, Director of The Multiple Chronic Conditions Resource Center
Savannah, GA (PRWEB) February 03, 2016
The Multiple Chronic Conditions Resource Center's annual National Health Policy Conference has been selected by the US Department of Health & Human Services as one of only 10 conferences in the US to provide a "Train the Trainer" Program on SHARE Decision Making. Health Policy Experts from Washington DC and National Clinical Experts will describe the current and future changes affecting: clinical practice, reimbursement and interdisciplinary collaboration used to promote community based practices and improve patient-centered outcomes – a direct result of the Affordable Care Act (ACA). The 2016 Health Policy and Clinical Practice Conference is Thursday, March 31 through Saturday, April 2 at the Westin Savannah Harbor Golf Resort & Spa, located at 1 Resort Dr, Savannah, GA 31421.
The conference has partnered with the US Department of Health & Human Services and Key Washington, DC thought leaders including:

Dr. Arlene Bierman, US Department of Health & Human Services, Director of Evidence and Practice Improvement in the US
Federal Congresswoman Debbie Dingell, on her recent essay in the Harvard Policy Journal on Aging in America
Dr. Joanne Lynn, voted by the American Medical Association as most powerful MD on Capitol Hill
Dr. George Miller from Washington, DC, think tank on the economics of prevention
The conference will offer presentations by Georgia legislators, clinical and legal experts. The goal of this conference is to provide the general public and health care professionals an opportunity to:
Learn how the Affordable Care Act has impacted a "tsunami of change" in America
Understand how to navigate a new system of health care in the US
Gain access and direct communication with top federal policy leaders
Credits for continuing education opportunities will be available in practice areas including medicine, nursing, pharmacy, physical therapy, occupational therapy, physician assistants and chiropractor. Pricing for such is as follows: $289 prior to Tuesday, March 1, $299 between Wednesday, March 2 and Thursday, March 31, and $330 dollars for on-site registration. Student/military discount will be $250. General public will be $195.
About Multiple Chronic Conditions: Multiple Chronic Conditions Resource Center is an interdisciplinary source for clinical practice updates, guidelines, blogs, and courses used to support best practices in the care and management of America's largest patient population - those with two or more chronic conditions. The Center is recognized by the US Department of Health and Human Services as a clinical resource for interdisciplinary health care professional's providing care for patients with Multiple Chronic Conditions. The Resource Center is a key resource for educators and students for current evidence based practice recommendations and relevant information to support optimal patient-centered outcomes for those best practices for managing patients living with symptomatic chronic conditions. The Center provides easily accessible practice guidelines, current best practice updates, e-books, webinars and more content.