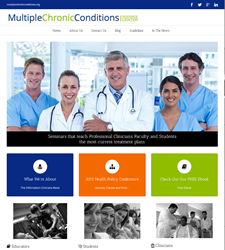 We are honored to have Dr. Bierman speak at the NHCP this spring. We are confident that she will inform the attendees how to promote optimal patient centered outcomes..." Dr. Kim Kuebler - Director of the Multiple Chronic Conditions Resource Center
Savannah, GA (PRWEB) December 11, 2015
Multiple Chronic Conditions Resource Center is pleased to announce Dr. Arlene S. Bierman as a speaker for the 2016 National Health Policy Conference March 31-April 2, 2016 in Savannah, GA. Dr. Bierman was recently named the director of the Center for Evidence and Practice Improvement for the AHRQ. AHRQ's mission of improving the quality, safety, accessibility, equity, and affordability of the nation's health care. The Agency's authorizing legislation requires AHRQ to advance the field of primary care research and to establish the Center for this work.
Dr. Bierman is one of several keynote speakers to address the profound impact that health policy has on clinical practice and patient-centered outcomes. Additional topics include Value vs. Volume reimbursement and the approaching population based payment system, economics of prevention, the interface between policy and practice.
"We are honored to have Dr. Bierman speak at the National Health Policy Conference this spring. We are confident that she will inform the attendees how to promote optimal patient centered outcomes in the era of value vs volume and the role of standardizing best practices to ensure comprehensive cost effective care," says Dr. Kim Kuebler, Director of Multiple Chronic Conditions Resource Center.
Dr. Bierman is a general internist, geriatrician, and health services researcher with past experience on improving access, quality, and outcomes of health care for older adults with chronic illness in disadvantaged populations. Her new role with the AHRQ's Center for Evidence and Practice Improvement enables her to generate new knowledge, communicate evidence on what works in health care and catalyze practice improvement in response to this evidence.
About Multiple Chronic Conditions: Multiple Chronic Conditions Resource Center is an interdisciplinary source for clinical practice updates, guidelines, blogs, and courses used to support best practices in the care and management of America's largest patient population - those with two or more chronic conditions. The Center is recognized by the US Department of Health and Human Services as a clinical resource for interdisciplinary health care professional's providing care for patients with Multiple Chronic Conditions. The Resource Center is a key resource for educators and students for current evidence based practice recommendations and relevant information to support optimal patient-centered outcomes for those best practices for managing patients living with symptomatic chronic conditions. The Center provides easily accessible practice guidelines, current best practice updates, e-books, webinars and more content.
To register for the conference, please visit MultipleChronicConditions.org or Click Here for the Registration URL. Participants will obtain 8.5 continuing education contact hours for attending the conference. Early bird registration, before February 1, 2016, is $289 for medical professionals and $195 for the general public.