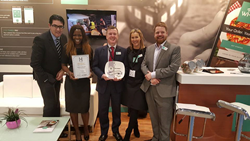 We knew the industry needed something that was affordable, accessible and future-proof; there is nothing like Wi-Q and we are so proud and delighted to be recognised by the industry's leading influencers
London, UK (PRWEB UK) 1 March 2016
W-Q, the mobile ordering and payment solution has announced that it has won the Hotelympia Technology Innovation Award sponsored by Hotelympia 2016 in conjunction with the Caterer. The competition included more than 150 entries, whittled down to the final 18, who exhibited alongside the Hotelympia main stage before presentations and judging on Monday, 29 February.
Wi-Q presented its cloud-based mobile ordering solution to the judging panel, highlighting its innovation in improving the customer experience and boosting revenue across the hospitality industry. Without any of the limitations of an App, Wi-Q allows customers to browse, order, re-order and pay using a number of choices on any mobile or Wi-Fi enabled device. Wi-Q's suite of user-centric functions includes the choice of menus in any language with allergy and nutritional information, special orders and bill-splitting.
Graham Cornhill, Wi-Q founder and director commented: "We knew the industry needed something that was affordable, accessible, future-proof and that would add real value to the customer experience. We're happy to say that our customers tell us that it also significantly improves revenue from day one. There is nothing like Wi-Q and we are so proud and delighted to be recognised by the industry's leading influencers."
The esteemed 2016 Hotelympia Innovation Awards judging panel was chaired by Stirling Johnstone, Editor of GS Magazine, who commented "Without question, the best batch of entries to date. Some truly great ideas which have been well thought through to provide the industry with new and improved products. Finding a winner from these will not be an easy task". The judging panel also included Carl Weldon, Chief Executive, HOSPA, Jack Sharkey, CEDA Chairman.
Wi-Q are exhibiting at Hotelympia 2016, Excel until Wednesday 3 March 2016 on Stand 1712 and then at RBTE Olympia stand 651 on 9th & 10th March.
Wi-Q Editor's Notes
Wi-Q is a revolutionary software company founded by a stakeholder group including multi-millionaire entrepreneur Graham Cornhill, who recognised a gap in the market to help shoppers with their purchases and ultimately put them at the heart of the sales process. The resulting technology, also called Wi-Q, has initially been aimed at the hospitality industry, but has the scope to be rolled out across any retail outlet, and is the world-leading integrated HTML software solution that is set to revolutionise the hospitality industry by placing the menu and ordering capability in the customers' hands. Accessed via Wi-Fi or any mobile connection, rather than being a device- restrictive app, Wi-Q can be accessed using any mobile enabled device. The customer can select from the easy to update menu, place their order, make further purchases (think dessert or second cup of coffee), request a bill or pay for their order, all from the comfort of their seat, using their chosen device and without having to queue. Venues are seeing revenue uplifts averaging 15% within a month of implementing Wi-Q and trials and installations are taking place across the world in a diverse range of sectors from coffee shops to stadiums.