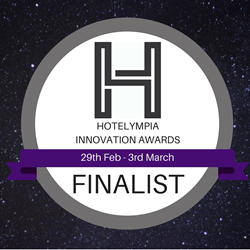 A technology finalist in the Hotelympia 2016 Innovation Awards, in association with The Caterer Wi-Q epitomises innovation and is ready to revolutionise the hospitality industry
London, UK (PRWEB UK) 9 February 2016
Hotelympia is the UK's largest foodservice and hospitality event and is considered the place to see first-hand the latest products, services and innovations from leading UK suppliers.
A technology finalist in the Hotelympia 2016 Innovation Awards, in association with The Caterer Wi-Q epitomises innovation and is ready to revolutionise the hospitality industry. Hotelympia will provide the perfect stage to demonstrate the capabilities of the web-based integrated HTML software solution. Wi-Q's state-of-the-art system places the menu and ordering capability in a consumer's hands with proven ability to significant boost revenue and improve service. Its features include network agnostic Wi-Fi, app integration, multiple customer payment options, pre-load payment cards, EPOS integration or standalone ordering, pre-order, takeaway and favourites. From healthy eating options, allergy information, gluten-free diets, children's menus to room service options, spa treatment bookings; there really is no limit to the capabilities of Wi-Q in the hospitality sector.
"If mobile ordering is the future, why are so many venues stopping at payment provision? If you can buy with your own device but not order, what's the point? Says Stephen Kennedy, Wi-Q's Non-Executive Chairman. The hospitality experience can be ruined at the point of order or payment simply by the consumer having to wait for service or query items. Servers create variance but technology can take human error out of the equation, leaving servers to concentrate on the quality and ambience."
"There are plenty of apps in the marketplace, but apps aren't the future for hospitality and will become obsolete. Apps use memory, need updating and require log in; every brand wants their own app but consumers don't want multiple apps. It's like the scenario with loyalty cards – customers loved them but got overloaded with a purse full of cards. HTML technology has moved forward and can deliver a ubiquitous solution like Wi-Q, where consumers can access a branded, user-friendly ordering and payment solution via Wi-Fi from any mobile device," continues Stephen. "The successful venues will be those who embrace technology to give their customers choice without limitations in how they browse, order and pay," he concludes.
Wi-Q founder CEO Graham Cornhill adds: "We are in trials and implementation in venues across the world, and the common theme is that customers and staff love Wi-Q. With an average beverage sales uplift of 15%, the figures prove that given the choice of when and how to order, customers will spend more if they don't have to wait for service. Hotelympia will give us the chance to show visitors to our stand just how much they could benefit from Wi-Q, and how cost-effective it is as an ordering and payment solution. The icing on the cake for us as a team is being shortlisted for the Hotelympia Technology Innovation Award, the results of which, will be announced during the event, and will follow a demonstration of our product to the elite team of judges."
Wi-Q is available now as a revenue-based SaaS model with little or no capital investment. For further details visit http://www.wi-q.com
Wi-Q Editor's Notes
Wi-Q is a revolutionary software company founded by a stakeholder group including multi-millionaire entrepreneur Graham Cornhill, who recognised a gap in the market to help shoppers with their purchases and ultimately put them at the heart of the sales process. The resulting technology, also called Wi-Q, has initially been aimed at the hospitality industry, but has the scope to be rolled out across any retail outlet, and is the world-leading integrated HTML software solution that is set to revolutionise the hospitality industry by placing the menu and ordering capability in the customers' hands. Accessed via Wi-Fi or any mobile connection, rather than being a device- restrictive app, Wi-Q can be accessed using any mobile enabled device. The customer can select from the easy to update menu, place their order, make further purchases (think dessert or second cup of coffee), request a bill or pay for their order, all from the comfort of their seat, using their chosen device and without having to queue. Venues are seeing revenue uplifts averaging 15% within a month of implementing Wi-Q and trials and installations are taking place across the world in a diverse range of sectors from coffee shops to stadiums.