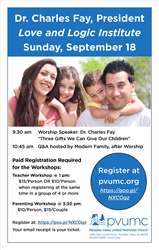 "I'm so relieved that he gave us things we can actually use rather than lots of theory and impractical stuff."
Paradise Valley, AZ (PRWEB) August 31, 2016
Paradise Valley United Methodist Church, 4455 E Lincoln Drive, Paradise Valley, AZ 85253, hosts Dr. Charles Fay, President of the Love and Logic Institute, for a day of learning on Sunday, September 18. The day begins at 9:30 am in the church sanctuary, with the message: "The Family I've Always Wanted: Three Gifts We Can Give our Children." Following worship, join Dr. Fay and PVUMC's Modern Family parenting group for a Q&A in the Fellowship Center at 10:45 am. The Paradise Perk, the church's full-service, volunteer-run coffee shop "Coffee with a Mission," will serve coffee, tea, smoothies and snacks. All proceeds benefit youth missions.
In the afternoon, Dr. Charles Fay will lead two workshops. These are ticketed events. Early registration is encouraged, and the email receipt serves as the event ticket. Purchase tickets online. If space allows, workshop tickets will be available at the door. Childcare is available with a 48-hour reservation by calling 602-840-8360, ext 134. To cancel childcare, even at the last minute, please call the number again.
Ticketed Afternoon Workshops (See our event on Facebook)

1:00 pm – Teacher Workshop – "The 2 Rules of Love and Logic for Teachers"
For all teachers who work with groups of children – volunteers and professionals. Cost: $15 per person, or $10 each when 4 or more sign up at the same time.

3:30 pm – Parenting Workshop – "The 2 Rules of Love and Logic for Parents"
Cost: $10 per person or $15 per couple.
Registration
Click here to Register or register in person at PVUMC. If paying by check, please make it payable to "PVUMC" with "Dr Fay Workshop" in the memo line. Tickets will be available on the church patio following worship on September 4 and 11. Online registration is easy; just bring the email receipt to the event as proof of purchase/registration.
About the Speaker and Workshop Leader, Dr. Charles Fay
Dr. Fay is a specialist in:

Child, adolescent, and family psychotherapy
Assessment of child and adolescent learning, emotional, and behavioral problems
Classroom management techniques for extremely disturbed and disruptive children, and adolescents
Consultation strategies for teacher and school improvement
Parent training methods and family therapy
Parent, author, consultant, speaker
Charles Fay, Ph.D. is a parent, internationally recognized author, consultant, public speaker and CEO of the Love and Logic Institute. Millions of educators, mental health professionals, and parents world-wide have benefited from his practical and down-to-earth solutions to the most common and frustrating behaviors displayed by youth of all ages. These solutions come directly from years of research and clinical experience serving severely disturbed youth and their families in psychiatric hospitals, public and private schools, and homes.
Because of his high-powered sense of humor and story-telling skills, audiences experience the most memorable and life-changing form of learning: learning that's mentally connected to joy and real-life examples. Many conference attendees have written, "The time went so fast…a very entertaining speaker," and "I'm so relieved that he gave us things we can actually use rather than lots of theory and impractical stuff," and "I first heard Dr. Fay fifteen years ago. I'm still using the skills I learned all those years ago!"
For more information about this event, visit the PVUMC news page.
###