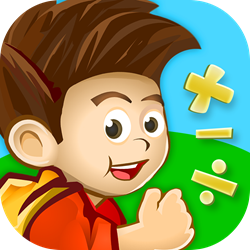 "We have combined all our talents and passion for education to develop this innovative and entertaining math game" - Reinaldo Ortiz, Founder and Game Director at Degenet
Jacksonville, Florida (PRWEB) May 27, 2016
Degenet, a Jacksonville based game studio, announces Yash Math Adventure, a math game to encourage kids to practice their arithmetic skills, while taking a hero into an adventure through an exciting jump and run 2D platform game. The player must find their way out by using logic, solving math puzzles and collecting coins. This amazing game is designed to be a fun learning experience for kids from ages 6 and up and aligns to the Common Core Mathematics Standards for 1st, 2nd, and 3rd grade.
"We have combined all our talents and passion for education to develop this innovative and entertaining math game," said Reinaldo Ortiz, Founder and Game Director at Degenet. "We strongly believe that learning while playing is perfect for kids, parents, and educators."
Yash Math Adventure game is a non-violent, nature friendly math game, inspired by the scenery of our planet. Yash, the hero, encounters arithmetic questions at key points to allow the player to advance and collect hidden tokens around six beautifully designed worlds with mazes and labyrinths. Here is a preview of Yash Math Adventure Game http://yashmathgame.com/trailer/
The Yash Math Adventure mobile game will be launched worldwide on June 3, 2016, just in time to prevent the summer slide in math skills. It will be available for $2.99 USD on the iOS, Android, Kindle, and Windows stores, in English, Spanish, French, Italian, Portuguese, and German.
For more information, please visit http://yashmathgame.com/presskit.
About Degenet ®
Degenet is an independent software and multimedia studio founded in 2005, located in Jacksonville, Florida. They are a team of artists, software and game developers dedicated to creating engaging apps and games. With over 15 years of combined experience developing educational applications, their products have been used by thousands of students and educators around the globe. Their latest game invites kids to challenge their sense of discovery and inspire multiple ways of learning.
Please visit http://www.degenet.com to learn more.