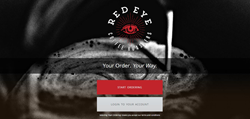 This new technology means customers can pre-order and pay at any time, from any device, giving them more choice, more time and an even better experience
London, UK (PRWEB UK) 6 July 2016
As part of its commitment to lead the way in customer experience, Galway-based coffee house, the Red Eye Coffee Roasters will be the first venue in Ireland to offer customers the ability to order and pay on their mobile devices with Wi-Q. The service is aimed at busy Ballybrit office workers who don't want to waste precious time queuing for food and drink orders at the popular café.
Wi-Q uses unique mobile ordering technology that allows customers to browse, order and pay from any mobile device without queuing or waiting for service. The award-winning technology is already leading the way in England and the Red Eye Café will be the first to offer the service to its customers in Ireland.
Steve Delaney, co -founder and director at Red Eye Coffee Roasters said: "We want our customer experience to be as good as our coffee so we are very excited to be introducing Wi-Q to our customers. We're in a great position here on the Racecourse Business Park, with around 10,000 people working on the site and the Red Eye Café is a popular venue, especially during peak times. This new technology means customers can pre-order and pay for food and beverages at any time, from any device, giving them more choice, more time and an even better experience. When you're grabbing a coffee on the way to work, re-fuelling on your lunch break or rushing off to a meeting, you want to get your order and enjoy it, not wait in a queue. It's important to us to be ahead of the game in everything we do and Wi-Q ticks every box for customer experience."
Jon Gowing, Business Development Manager at Wi-Q said: "Red Eye Coffee Roasters' Red Eye Café is an incredibly popular venue, especially for people working locally. We've delivered a solution that will enable customers to browse the menu, pre-order, pay and choose a collection time that suits their schedule. Wi-Q is perfect for busy coffee houses and can make a huge difference to waiting times. The Red Eye Café is a fantastic venue and we are delighted to be working with Red Eye Coffee Roasters in Ireland."
The Red Eye Café is at Unit 5, Racecourse Business Park, Ballybrit, Galway. http://www.redeyecoffeeroasters.eu orders can be made at redeye.wi-q.com
Wi-Q Editor's Notes
Wi-Q is world-leading integrated cloud software solution that is set to revolutionise the hospitality industry by placing the menu and ordering capability in the customers' hands. Accessed via an establishment's Wi-Fi, rather than being a device- restrictive app, Wi-Q can be accessed using any Wi-Fi or mobile enabled device. The customer can select from the easy-to-update menu, place their order, make further purchases (think dessert or second cup of coffee), request a bill or pay for their order, all from the comfort of their seat, using their chosen device and without having to queue. In March 2016 Wi-Q won the Hotelympia Technology Innovation hospitality industry award.