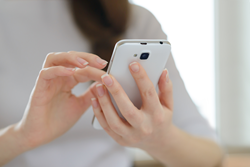 According to the UK health and safety regulator, the Health and Safety Executive (HSE), three in five people show symptoms of MSD, resulting in them taking an average of 15.9 days' sick leave each year
London, UK (PRWEB UK) 28 April 2016
The benefits of mobile working, whether staff are using laptops, tablets or smartphones, are plentiful for both employers and employees, allowing for more flexible working, faster communication, and cost savings as well as improving work-life balance.
However, the constant use of mobile devices shows a strong correlation to the rising number of strain injuries, including musculoskeletal disorders (MSDs), repetitive strain injuries (RSIs) and digital eye strain. According to the UK health and safety regulator, the Health and Safety Executive (HSE), three in five people show symptoms of MSD, resulting in them taking an average of 15.9 days' sick leave each year.
Sarah Tapley, who recently co-founded Mobile Office Ltd to offer guidance and a unique mobile working risk system, explained the pain technology is causing and the importance of preventing its health risks: "We have entered the age of Texting Thumb and Texting Neck, through the repetitive use of mobile devices. Businesses are seeing the benefits of mobile working, but it is important that employers still meet their legal requirement under the Health and Safety at Work etc. Act 1974 to prevent Display Screen Equipment (DSE) health risks for those staff using mobile technology for work, just as they would in an office environment."
Sarah continued: "It's not surprising that the health and safety measures employers abide by in the office environment aren't applied to their mobile workers as the government's current guidance for DSE regulations cannot be readily applied to mobile workers."
Chartered Ergonomist Sarah co-founded Mobile Office Ltd with business partner Ed Milnes, combining their 37 years' experience working as specialist inspectors for the HSE to introduce essential resources that can help employers meet the health and safety regulations applied to mobile working. This includes detailed guidance, online assessments and regular updates. More information and free guidance can be found on the website http://www.mobileoffice.guru.
Editor's notes:
Mobile Office Ltd helps businesses meet their legal duties to manage the musculoskeletal and ergonomic risks their employees face when mobile working.
The company was launched in April 2016, by Ed Milnes and Sarah Tapley, Chartered Ergonomics and Human Factors specialists.
Mobile Office Ltd offers guidance for employers and mobile workers, as well as a Mobile Working Risk Management System, which consists of tools to help employers manage the risks of mobile working effectively.