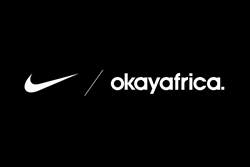 Okayafrica connects a global audience to Africa through compelling content and high-profile cultural events.
Brooklyn, NY (PRWEB) October 28, 2016
Okayafrica is excited to announce that it is partnering with Nike to introduce the new 2016 Nigeria National Football team kits in November. Stay tuned to Okayafrica.com for an up-close look at Nigerian athletes and their biggest fans.
As the premier pan-African youth-culture brand, Okayafrica is embedded within the Nigerian cultural fabric—with a presence at everything from the biggest music festivals to Felabration at the New Afrika Shrine.
This past August, Okayafrica was the only outlet committed to covering the Olympics from a pan-African perspective, earning raves for their coverage at the intersection of sports and culture. This included short-form video, analysis and original reporting on the African teams from Brazil.
The partnership with Nike includes a digital roll-out of the new designs around a curated list of 100 of Nigeria's biggest cultural influencers from fashion designers and comedians to athletes and entrepreneurs. Each of these icons will receive the new jersey ahead of its release.
Alongside the roll-out, Okayafrica is partnering with Nike and members of the Nigerian national football team—including John Mikel Obi, Alex Iwobi and Kelechi Iheanacho—to bring you "Africa in Your Earbuds 75," the latest installment of our popular mixtape series featuring new music from the continent. OUT NOW!. The following weeks will see a release of a photo essay and questionnaire with celebrated Nigerian photographer Andrew Esiebo about the place of football in the Nigerian imagination and a feature story on what's next for the national team.
About Okayafrica
Okayafrica connects a global audience to Africa through compelling content and high-profile cultural events. The leading media company of its kind, Okayafrica is a multi-faceted hub—a lifestyle brand, an online magazine, a bespoke content producer, and an events producer. Most of all, it is a community of readers, artists and creators that uses the Okayafrica platform to bridge Africa and its diasporas. Okayafrica is the only platform truly capturing the breadth of the continent's unprecedented youth culture boom. With a sophisticated, yet streetwise voice, Okayafrica focuses on the new music, art, culture, business, and politics of Africa and the African diaspora. Okayafrica fills the gap in representations of Africa by presenting a forward thinking, nuanced view of Africa today.