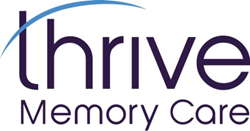 "This community will be a drastic departure from what most people think of when senior living comes to mind, and will set a new standard for senior living," said Jeramy Ragsdale, CEO of Thrive Senior Living
West Chester Township, OH (PRWEB) December 24, 2016
Atlanta-based Thrive Senior Living announced construction is nearing completion at a unique, highly specialized community: Thrive Memory Care at West Chester.
Thrive will provide exclusive care to seniors living with Alzheimer's Disease and related dementias (ADRD).
The 60-suite community has been designed entirely with the purpose of providing these residents with a peaceful, easy-to-navigate, secure and supportive environment. Quietly integrated with this home-like atmosphere is a state-of-the-art care system, designed by Thrive to provide world-class care and engagement to its residents.
The community consists of three neighborhoods; each is home to residents with similar needs, which allows Thrive to provide more focused, personalized care for those in every stage of memory loss or Alzheimer's disease. Neighborhoods feature a kitchen, dining room, living room, activity areas, and access to the stunning outdoor park. The park augments Thrive's progressive Memory Care programming with water features, raised gardening beds, exercise areas, and putting greens.
Thrive will coordinate resident care information in its innovative digital environment, which seamlessly integrates communication, Electronic Health Records, Medication Administration, and Individual Care Plans. Care Teams will quickly and easily have access to residents' full health picture, allowing a more informed and holistic approach to care. Other technology, including a wireless care alert system, will simplify and improve daily life for residents and bring peace of mind to their families.
Thrive at West Chester will serve the person living with memory impairment through engagement in activities and cognitive therapy. The community will feature a senior-friendly technology system that Care Teams can use to attempt to bridge across memory conditions into enjoyable past activities and experiences.
Founded with a single community in 2009, Thrive has rapidly become known as one of the most innovative, disruptive, and fastest growing companies in the senior living industry. Thrive has developed and operated over 25 senior living communities in 8 states valued at over half a billion dollars, and currently employees more than 700 amazing team members.
"This community will be a drastic departure from what most people think of when senior living comes to mind, and will set a new standard for senior living," said Jeramy Ragsdale, CEO of Thrive Senior Living
For more information, contact Jacob Murray, Portfolio Director, at hello(at)thriveatwestchester(dot)com or by phone at (513) 342-8889.