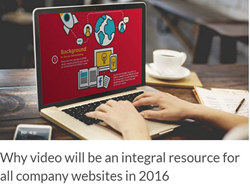 Nothing builds rapport, gets traffic, and makes sales like a good video
Colchester, Essex (PRWEB UK) 31 December 2015
According to the award-winning Essex-based digital marketing agency, video advertisements are starting to dominate marketing as we see increasing numbers appear online, with Google set to incorporate video advertising into search results. This notion is supported by a recent Cisco report that claims video will account for 80% of global Internet traffic and nearly a million minutes of video will be shared every second.
"Video has always been a powerful form of communication; however, consumers are becoming more accepting of video advertisements," says Simon Isaac, Strategy Partner at Zero Above. "Statistics show that almost a quarter of the nation watch online video content at least once daily, and with this trend more unique and innovative videos are becoming available across many different platforms. Nothing builds rapport, gets traffic, and makes sales like a good video." Isaac goes on to describe the six reasons businesses need to get serious about video content marketing in 2016;
1. Improve your search results
Video content has a positive impact on a website's search results. Studies show that a website with video is 50 times more likely to rank on the first page of Google search results. That can have a significant impact on your business.
2. Make a lasting impression
Video allows you to tell your story, to connect with people and leave a lasting impression. No business has the same backstory as yours, so tell your story, and help to set your business apart from competition. Online Publishers Association claim that 80% of users remember a video ad that they have seen in the past month, 46% of which took specific actions after viewing.
3. Optimise your shelf-life
Video content has a long shelf life in comparison to most marketing tools. A well-produced video retains its quality for around two years before you'll need to refresh it with an updated one.
4. Be unique
Video advertisement will set you apart from your competitors. If they do not have a video on their site, you will instantly gain a competitive advantage. Alternatively, if they are currently using video, then you are helping to level the playing field.
5. Create brand awareness
Video helps to create brand awareness and to display a reflection of your brand. A video's production quality should equal the level of professionalism, polish and status that you strive for in your company's brand identity. The videos that run on your website can be re-purposed on other sites and through social channels, creating a consistent brand message.
6. No big splash necessary
A good video provides a powerful and effective marketing tool for minimal investment. Contrary to popular belief, you do not need to spend a fortune to create high-quality video production, quality and cost are not a trade-off. A great business profile video can be created for a lot less than you think.
Simon concludes: "As we leave 2016, most businesses are aware of the popularity of video marketing, but many still believe either it's not relevant to their business or that they just don't need video as part of their brand marketing. New research is proving that video is not only helping businesses to create the opportunity for customers to engage in what their brand is about, but is also pushing them to the front of online searches. Video provides visitors with an extra way of assessing the product. It allows them to see how it moves, sounds, or works and gives them the extra information they crave while exploring what they initially want – what more could you want for the perfect marketing campaign?"
EDITOR'S NOTES:
About Zero Above:
Zero Above is a multi-award-winning, Essex-based sustainable design agency which has been carbon-balanced from its creation two and a half years ago. Set up by its working partners, each sharing a vision for sustainable business, the agency offers comprehensive services for brand and marketing strategy, digital marketing, design and print, web design and development, exhibition and signage, and of course mobile App development.
Zero Above approaches every project as a unique piece of work for its clients, and with the skills, commitment and experience in the team, they are able to offer a multi-disciplinary service designed to deliver great results every time.
"We call it Develop-Design-Deliver - and we can deliver the whole process from start to finish, or any stage in isolation depending on your needs."
Visit http://www.zeroabove.co.uk or tweet @zeroabove for further information.