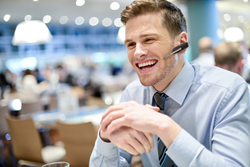 This year, we're not only showing our proven, Avaya-compliant products, we're also unveiling two exciting new wireless product lines.
Dover, N.H. (PRWEB) June 01, 2016
VXi Corporation, a leading headset manufacturer and Avaya DevConnect Technology Partner, is unveiling two new office wireless headset product lines at Avaya ENGAGE 2016 (Booth #220) in Orlando, Florida, June 5-9. The show will be focused on the changing technology landscape, and VXi's latest advances put them firmly at the forefront of technological change.
VXi: The Place for Workplace Wireless
VXi's new office wireless product lines are built on the two accepted wireless standards, Bluetooth® and DECT™. Both VXi solutions are designed to deliver 300+ feet of wireless freedom as well as seamless connectivity across multiple devices. The Bluetooth line, built for mobile professionals, will meet their need to stay connected wherever they're working. The DECT-based line will give office users the most affordable choice of professional wireless solutions in the industry. Because they're VXi, every headset in either line will feature superior microphone noise-canceling techology and a host of solid, practical, customer-requested innovations.
Compliance-Tested Solutions
As an Avaya DevConnect Technology Partner, VXi will also be showcasing its line of tested UC-ready headsets, proven to work seamlessly with Avaya products. From the one-of-a-kind UC ProSet LUX™, with its unique Visual Presence™ indicator to the the best-of-everything CC Pro™ to the full-featured, affordably priced Envoy™ Office, every VXi Avaya-ready product boasts productivity-boosting sound quality and reliability and headache-free ease of connection.
Gifts and Giveaways
In conjunction with Passport to Prizes, VXi will be giving away an Apple Watch, so visitors will want to make sure they get their Partneropoly game board (from the registration bag) stamped while they are at the VXi booth (#220). Visitors can also enter a daily drawing to win a VXi headset. In addition, the first 500 people who stop by the VXi booth will receive a special gift.
"As always, we're happy to be at Avaya ENGAGE," said Mike Ferguson, president and CEO of VXi. "This year, we're not only showing our proven, Avaya-compliant products, we're also unveiling two exciting new wireless product lines. Avaya ENGAGE 2016 is the ideal venue for us to get our new products in front of the right people."
To learn more about how VXi's advanced technology can make a difference in Avaya environments, visit Booth #220 at Avaya ENGAGE 2016, go to the company's Avaya solutions page, or download the VXi Solutions Guide for Avaya Unified Communications.
About VXi Corporation
VXi provides the best-performing headsets, telecommunications and speech recognition solutions for the benefit of mobile professionals, small and large businesses, and contact centers around the world. From Bluetooth® to Unified Communications, they meet the highest global standards for product quality and service, backed by the industry's best warranties. VXi designs, markets, sells and supports their products from Dover, New Hampshire, and takes pride in delivering value, excellence and innovation. That is why VXi is The Sound Choice™. Learn more at vxicorp.com.