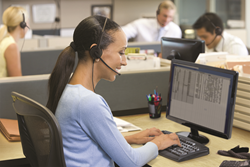 Dover, NH (PRWEB) February 11, 2016
VXi Corporation, an industry leader in contact center headsets, is bringing its full line of CC-centric products to this year's Call Center World at the Estrel Convention Center in Berlin, February 23-25. VXi will be showcasing its comprehensive contact center product line at Halle 3, Stand-Nr. G23, highlighting the significant productivity advantages of their better-sounding headsets, and the business impact of a well-managed contact center culture.
The Sound of Success
At VXi, everything starts with sound quality. You can hear it in every product in their call center-centric line. The CC Pro™, for example, delivers the best of everything (including value)—starting with vastly superior noise canceling. CC Pro's noise-canceling microphone cuts nearly 90% of background noise, to ensure users and customers are heard clearly. And its wideband audio makes it easy to understand every word.
For true high performance that's also UC-ready, there's the VXi UC ProSet™, delivering the kind of productivity and value you can only get from VXi. The company will also feature a broad array of USB products, including the VXi Envoy™ UC and the all-new VXi Envoy Office. Both provide the best-in-class sound quality that Unified Communications applications demand at a surprisingly affordable price.
Knowledge is Power
VXi also offers contact center managers the information they need to make profitable management choices. At Call Center World, VXi will be offering a valuable white paper, "10 Considerations for Successful Cultural Shifts in the Contact Center." This white paper examines how proactive management of a contact center's culture can maximize profitability, increase loyalty and repurchase rates while reducing costs.
VXi will also be distributing the results of a study conducted by Vidal Consulting Group. The study identifies the effect of superior noise-canceling headsets at a retailer's 500+ seat inbound contact center. The results show how better-sounding headsets, like VXi's, can improve agent engagement, customer satisfaction—and revenue.
"VXi sales doubled in Europe last year," said Mike Ferguson, president and CEO of VXi. "Customer experience is a crucial KPI for contact centers, and more and more customers understand how important headset sound quality is in that equation. As the premier call center trade show in Europe, Call Center World is the ideal place for us to share our story directly with call center end users."
To learn more about how VXi's advanced noise-canceling technology can make a difference in any contact center, visit Halle 3, Stand-Nr. G23 at Call Center World, or go to the company's Contact Center Solutions page.
About VXi Corporation
VXi provides the best-performing headsets, telecommunications and speech recognition solutions for the benefit of mobile professionals, small and large businesses, and contact centers around the world. From Bluetooth® to Unified Communications, they meet the highest global standards for product quality and service, backed by the industry's best warranties. VXi designs, markets, sells and supports their products from Dover, New Hampshire, and takes pride in delivering value, excellence and innovation. That is why VXi is The Sound Choice™. Learn more at vxicorp.com.