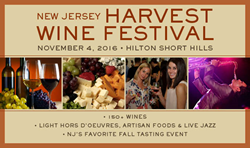 The luxe ambiance of the Hilton along with so many diverse wines plus a high energy performance by saxman Will Donato is sure to make for a fun, festive, pre-holiday season night out.
New York, NY (PRWEB) September 27, 2016
New York Wine Events is pleased to announce the first of three fall wine events scheduled for November in the Metro New York area. On Friday, November 4, the annual New Jersey Harvest Wine Festival returns to the Hilton Short Hills from 6:30-10pm.
The 11th annual event includes a special Premium Early Access ticket providing guests with the option of walking the expansive tasting event an hour earlier than the rest of the crowd, from 6:30pm until 7:30pm, at which time doors open to the general admission guests.
The harvest tasting event will include a diverse array 150+ wines along with light fare prepped by the Hilton's AAA Four Diamond award-winning culinary team including cheese and cracker selections and hot pasta stations, plus artisan food tables sampling baked goods, dipping oils, sauces, and salsa, chocolates, and more. Guests will also be able to take home their complimentary tasting glass as a souvenir and enjoy live contemporary jazz performances throughout the evening by acclaimed saxophonist Will Donato and his band.
Tasting tables located throughout the Grand Ballroom, Garden Foyer, Livingston Room, and Pavilion Room will feature a mix of rich and full-bodied reds, crisp white wines, plus sweet, sparkling, and specialty selections, well-suited for fall as well as the upcoming holiday season. Varietals from old, new and emerging wine regions worldwide will be featured including Italy, France, Spain, Portugal, South America, South Africa, Australia, New Zealand, Slovenia, the United States, and more.
"It's wonderful to return to the Hilton Short Hills for our eleventh fall event," notes Sam Kimball, founder of New York Wine Events. "The luxe ambiance of the Hilton along with so many diverse wines plus a high energy performance by saxman Will Donato is sure to make for a fun, festive, pre-holiday season night out."
This year's musical guest Will Donato is an engaging performer and award-winning composer. His most recent CD release, "Universal Groove," is his seventh solo effort with his next release "Supersonic" due out later this year. Will has performed with some of the best known artists in contemporary jazz including Earth Wind and Fire's Al McKay, Bruce Conte of Tower of Power, Steve Reid of The Rippingtons, and others. NewJazz.com calls Will Donato "…a must see show!"
New York Wine Event's popular tastings in New Jersey have had sold out crowds over the last decade, and the harvest event is anticipated to do the same. Once again, the array of artisanal food companies sampling their offerings the fest will feature full size items on hand for guests to purchase and enjoy at home.
Wine sponsors, lifestyle sponsors and participating artisan food companies to date include Cadillac, Barefoot Wine & Bubbly, Bodegas Vivanco, Casa Visco, Claremont Distillery, Cutco, Don Tony Perez Wine, Dove Chocolate Discoveries, Dr. Frank Vinifera Wine Cellars, Green Mountain Energy, John Wm. Macy's Cheesesticks, Kelly & Jones Fragrances, Last Call 4 Cupcakes, Laureate Imports, Patrichius Tokaj, Salsa di Parma, TMRW: The Most Romantic Wine, Topo Chico Sparkling Water, The Wining Hour, and Ventimigila Vineyards.
Tickets are on sale now, ranging from $64 to $89, depending upon ticket level and time of purchase. Premium early access begins at 6:30pm and general admission hours run 7:30pm to 10pm. Check the web site for details about limited time early purchase discounts, 15% savings for groups of 10 or more, and the Taste VIP program membership benefits including complimentary event tickets and discounts. Advance purchase for the New Jersey event is highly recommended; limited tickets will be sold at the venue on the night of the event.
For complete details or to purchase tickets to the New Jersey Harvest Wine Festival, visit http://www.newyorkwineevents.com.
About New York Wine Events
New York Wine Events is a comprehensive web site and event directory committed to bringing together New York Metro wine and food lovers, whether it is at one of their own wine festivals, at the other New York area food and drink events appearing on their pages, or through their in-depth articles about New York's vibrant food and drink scene. Visit NewYorkWineEvents.com.
###