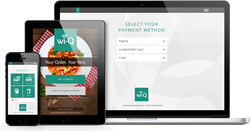 Wi-Q's new website answers a lot of the questions we are commonly asked, covering everything from integration, to how much it costs, to the fact that with so much capability, Wi-Q is a long-awaited alternative to the limits of App technology
London, UK (PRWEB UK) 8 February 2016
In conjunction with a number of exhibitions and trade shows, along with award shortlisting, the innovative any-device cloud-based service is attracting global interest and taking the hospitality industry by storm. Wi-Q puts the ordering and payment capability in the customer's hand with a simple, attractive, interface that can be tailored to a brand and has the functionality and flexibility to evolve alongside a business. It can also be integrated with any existing website, EPOS or App a company may already have, affording the opportunity to extend and improve existing functionality. With no App to download, customers just connect, order, and pay using any Wi-Fi or mobile enabled device.
With trials taking place across the world, the Wi-Q brand will be rolled out in multiple languages to support global demand for the solution.
Wi-Q founder and CEO, Graham Cornhill says, "We've worked hard to deliver a website that can inform and inspire across our diverse client base and we are delighted with the results. We hope it answers a lot of the questions we are commonly asked, covering everything from integration, to how much it costs, to the fact that with so much capability, Wi-Q is a long-awaited alternative to the limits of App technology."
"Wi-Q has been trialled and implemented in establishments around the world and we have received a lot of positive feedback, from venues, staff and customers, alike. The scope for Wi-Q is huge; hotels, cafes, restaurants, stadiums, coffee shops, takeaways, theatres, poolside and beach bars, anywhere customers queue to place orders and pay, could benefit. Because Wi-Q is a SaaS model, with little or no capital outlay, and because our customers have seen an average of 15% increase in beverage sales in the venues using Wi-Q, we can confidently say it represents excellent value for money, and that is without putting a price on enhanced customer experience."
Wi-Q will be exhibiting at Hotelympia, London from 29 February to 3 March 2016 on stand 1712 and the product has been shortlisted in the Hotelympia 2016 Innovations Awards.
To find out more, visit the Wi-Q website at http://www.wi-q.com
Wi-Q Editor's Notes
Wi-Q is a revolutionary software company founded by a stakeholder group including multi-millionaire entrepreneur Graham Cornhill, who recognised a gap in the market to help shoppers with their purchases and ultimately put them at the heart of the sales process. The resulting technology, also called Wi-Q, has initially been aimed at the hospitality industry, but has the scope to be rolled out across any retail outlet, and is the world-leading integrated HTML software solution that is set to revolutionise the hospitality industry by placing the menu and ordering capability in the customers' hands. Accessed via Wi-Fi or any mobile connection, rather than being a device- restrictive app, Wi-Q can be accessed using any mobile enabled device. The customer can select from the easy to update menu, place their order, make further purchases (think dessert or second cup of coffee), request a bill or pay for their order, all from the comfort of their seat, using their chosen device and without having to queue. Venues are seeing revenue uplifts averaging 15% within a month of implementing Wi-Q and trials and installations are taking place across the world in a diverse range of sectors from coffee shops to stadiums.