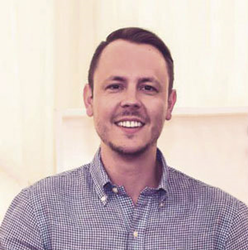 We have many clients where software is an integral part of what they do and we have a multi-talented team to deliver innovation to them that will give them a tangible competitive advantage
Colchester, Essex (PRWEB UK) 8 March 2016
Ben's 17-year digital marketing career has seen him work with a range of high-profile brands including Hoseasons, Sony and Virgin.
"I've always been fascinated with marketing technology," says Ben. "I ditched my plans to study law after my A Levels and went into web development in 1999. The Internet was pretty new and this was before Google even existed so we were building websites for companies that saw most traffic through search engines like AltaVista. Then Google emerged and suddenly everything changed."
For ten years, Ben worked with the UK's leading web and SEO companies, at the forefront of the online revolution and seeing the highs and lows of digital marketing. "Not so long ago, keywords and backlinks were huge and everyone was battling to be at the top of Google regardless of the customer experience. Indian SEO firms were booming and at that time Google was really struggling. Results were full of spam and every day the top ten was changing according to who had the most links. Then Google figured out that user-friendly copy is key and changed the rules with Penguin, and overnight the criterion went from huge amounts of keywords and outbound linking to really good content."
"It's perfectly possible now for a local business to get really great results with some simple SEO, but for the majority of our clients, the work we do is much more technical and multi-layered. I'm increasing our technical offering with a pair of fresh eyes, which will enable Zero Above to design and develop more market-leading solutions. We're looking at scalable SaaS solutions that we can deliver to specific market sectors, like we have already with estate agents to pull in data from other sources and integrate across the web. We have many clients where software is an integral part of what they do and we have a multi-talented team to deliver innovation to them that will give them a tangible competitive advantage."
About Zero Above:
Zero Above is a multi-award-winning, Essex-based sustainable design agency which has been carbon-balanced from its creation two and a half years ago. Set up by its working partners, each sharing a vision for sustainable business, the agency offers comprehensive services for brand and marketing strategy, digital marketing, design and print, web design and development, exhibition and signage, and mobile App development.
Zero Above approaches every project as a unique piece of work for its clients, and with the skills, commitment and experience in the team, they are able to offer a multi-disciplinary service designed to deliver great results every time.
"We call it Develop-Design-Deliver - and we can deliver the whole process from start to finish, or any stage in isolation depending on your needs."
Visit http://www.zeroabove.co.uk or tweet @zeroabove for further information.