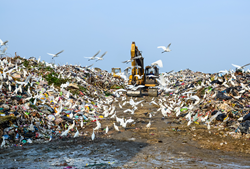 Milton, FL (PRWEB) January 05, 2016
SCS Engineers was commissioned by Santa Rosa County in March 2015, to conduct a solid waste rate and business plan to help County officials manage and plan for waste management services. The objective is to have an adequate fee structure to maintain operational excellence and to plan the most efficient timing of capital improvements while creating more space at the landfill for long term operations. A 10-year rate study and business plan was completed for Central Landfill that recommends a new tipping fee of $34 to $38 per ton. The Santa Rosa County Board of County Commissioners (BOCC) is expected to set the rate in January 2016.
Based on data and information provided by County staff, a Pro Forma rate model was developed, which enabled SCS to forecast the financial performance of solid waste collection and disposal for the upcoming 10-year planning period (FY 2016-2025) and model different possible rate structures. SCS then submitted a report discussing the methodology used to conduct the analysis, the revenue requirements of the County's solid waste system as determined by the analysis, and four possible scenarios of tipping fees for consideration by the BOCC. Equipped with a rate and business plan that allows for various situations helped the County to determine the most efficient option to pursue; including raising tipping fees to support new cell construction.
Santa Rosa's Central Landfill has significantly lower tipping fees than surrounding landfills and has not increased the tipping rates in 20 years. The County is currently accelerating construction of new cells to accommodate wastes from outside of the County. Increasing landfill capacity requires time for permitting, safe environmental design, excavation, and proper lining installation, and meeting environmental compliance policies along with the cost of construction. The County's new six-acre cell is expected to open in February 2016, and will add four years of landfill capacity.
"The proposed increase in tipping fees is still less than tipping fees in nearby landfills," stated Ron Hixson, County Environmental Director. "We've identified the acceptable rate needed to support our investment to accommodate the County's growth and landfill capacity, along with continued clean, safe services to customers."
About SCS Engineers
SCS Engineers' environmental solutions are a direct result of our experience and dedication to solid waste management and other industries responsible for safeguarding the environment. For more information about SCS, please visit our website at http://www.scsengineers.com.