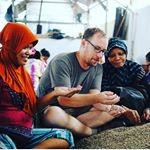 We travel to meet coffee growers and processors to make sure that the coffee we buy is sourced responsibly.
Columbus, Ohio (PRWEB) December 30, 2015
Coffee buyers from Columbus, Ohio coffee roaster Crimson Cup Coffee & Tea recently returned from a sourcing trip to the island of Sumatra, Indonesia. Their goal was to discover new coffees and find ways to support small farmers through the company's Friend2Farmer direct trade program. Roast magazine editors cited the roaster's work with small-plot farmers as a factor in naming Crimson Cup its 2016 Macro Roaster of the Year.
"We travel to meet coffee growers and processors to make sure that the coffee we buy is sourced responsibly," said Coffee Buyer Dave Eldridge. "This gives us a sense of how the coffee is processed and that it meets our standards. Because each community is different, it also gives us a sense of how we can help the growers through our Friend2Farmer program."
Landing in Medan on the island of Sumatra, Eldridge and fellow buyer Brandon Bir cupped coffee at several co-ops for three days straight. "We cupped everything we could get our hands on – which was hundreds of samples from all over Indonesia – not just Sumatra," Eldridge said. "Some nights we continued cupping until 9 p.m. Traditionally, Sumatran coffees have a unique, earthy taste, but we encountered an eye-opening variety."
Small-plot farming on Sumatra is smaller than in Central America, where Crimson Cup has formed the majority of its direct trade relationships. "Many of the farms are only a couple of acres in size," Bir said. "And, since the beans ripen gradually over seven to eight months of the year, individual harvests are very small. It's common for farmers to leave a bag of ripe coffee cherries at the end of a driveway for processors to pick up. You can also buy beans at open-air markets. All of this makes it difficult to track large quantities of coffee to individual farms."
After leaving Medan, the team spent two days visiting coffee farms and processing facilities near Lake Toba, a volcanic crater lake in northern Sumatra. Upon their return to Medan, Eldridge and Bir continued to cup coffee to narrow down their favorites. "We left a cupping to take a taxi to the airport," Eldridge said. They took samples back to Ohio for evaluation using Crimson Cup's roasters.
Ultimately, the team chose to import three coffees from the trip. Lintong Goves hails from the Lintong region southwest of Lake Toba. Lightly roasted, it displays tasting notes of dates, cherry, grapefruit, herbs and pepper. Fair Trade Organic Jaya Kopi is a classic Sumatran coffee with rich floral and herbal tasting notes. A micro-lot of Fancy Blue Tawar has tasting notes of apricot, twiggy, slight ferment and papaya.
Aside from the coffee, the buyers were most impressed by the hospitality of the people on Sumatra. "You won't find nicer people anywhere," Bir said. "If you look confused, someone will come up and try to help. At one point, our scooter ran out of gas – and some people came up with gas in a plastic baggie."
The coffee scene in Indonesia continues to evolve, with some making efforts to standardize sourcing and processing. Crimson Cup plans another buying trip early in 2016.
About Crimson Cup Coffee & Tea
Columbus, Ohio coffee roaster Crimson Cup Coffee & Tea is Roast magazine's 2016 Macro Roaster of the Year. Since 1991, Crimson Cup has roasted sustainably sourced specialty and craft coffee in small batches. The company also teaches entrepreneurs to run successful coffee houses through its coffee franchise alternative program, which includes a coffee shop business plan. Crimson Cup coffee is available through a community of more than 350 independent coffee houses, grocers, college and universities, restaurants and food service operations across 29 states, Guam and Bangladesh, as well as the company's own Crimson Cup Coffee Houses. To learn more, visit crimsoncup.com.