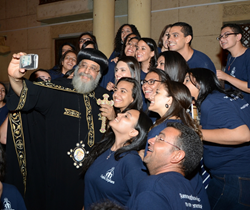 Coptic Orphans felt especially blessed in 2015, because His Holiness Pope Tawadros II met with the volunteers in our Serve to Learn program
Fairfax, VA (PRWEB) January 01, 2016
Coptic Orphans welcomes this New Year with gratitude to supporters worldwide for enabling remarkable steps forward in 2015, especially by ensuring access to quality education for thousands of children in Egypt.
"By earning high test scores and winning scholarships, the children we serve marked incredible achievements in 2015," said Nermien Riad, Coptic Orphans founder and executive director. "We're deeply grateful for our supporters' commitment to the academic success of these brilliant, heroic kids."
Coptic Orphans, a unique, education-focused Christian development organization that has impacted the lives of over 40,000 children in Egypt over the last 26 years, saw the following results in 2015:

Almost 25% of Coptic Orphans youth, who come from some of Egypt's most poverty-stricken communities, earned senawiyyah 3amma (high school final exam) grades of 85% or higher.
Children enrolled in Coptic Orphans programs were more than three times more likely to complete their secondary education than their average Egyptian peers.
For the second year running, 10 Coptic Orphans children beat tremendous odds to win prestigious LOTUS and AMIDEAST scholarships to Egypt's best universities such as the AUC and the British University.
"These academic achievements of Coptic Orphans children would not be possible without the Church," Riad said. "We're incredibly grateful to the Church for partnering with us in 55 dioceses across Egypt."
"Coptic Orphans felt especially blessed in 2015, because His Holiness Pope Tawadros II met with the volunteers in our Serve to Learn program, telling them of the value of their service for the children and for Egypt," Riad said. "We are thankful beyond words for His Holiness' inspiration and leadership."
In 2015, 37 Serve to Learn volunteers from around the world traveled to Egypt for three weeks of serving, teaching, and forming close bonds with children in communities such as Armant and El Barsha. A large group of volunteers and several Coptic Orphans staff members met with His Holiness on July 25.
Another key step forward in 2015 was the conference of nearly 500 Church-based volunteer "Reps," the backbone of Coptic Orphans' work with the children. The highlight of the August event in Hurghada was intensive training in how to build rapport with the children served by Coptic Orphans.
Coptic Orphans capped the year on Oct. 11 with a silver anniversary gala celebrating 25 years of serving God and the children. Among the speakers and honored guests at the Cairo event were Deputy Minister of the Cairo Governorate Gihan Abdel Rahman Ahmed, former Minister of Urban Development Laila Iskander, and Dr. Raouf Ghabbour.
At the event, which was attended by over 150 guests, Coptic Orphans presented its Leading by Example Award to Eng. Hossam El Kabbany, chairman of the Al Orman Association, to honor his tireless work to improve the lives of Egypt's most vulnerable citizens. The award honors people whose character and achievements make them role models in Egypt and around the world. Past recipients include Dr. Farouk El Baz, His Holiness Pope Tawadros II, and Ola Ghabbour, founder of the Children's Cancer Hospital.
Coptic Orphans is a unique, award-winning international Christian development organization that unlocks the God-given potential of vulnerable children in Egypt, and so equips them to break the cycle of poverty and become change-makers in their communities. Coptic Orphans works through grassroots partners and volunteer networks to strengthen local communities for sustainable impact. Since 1988, Coptic Orphans has touched the lives of over 40,000 children throughout Egypt. Coptic Orphans has offices in Australia, Canada, Egypt, the United Kingdom, and the United States.
To learn more about Coptic Orphans, please visit http://www.copticorphans.org