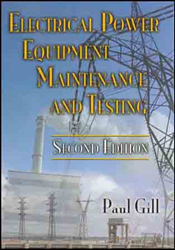 PORTAGE, MICHIGAN (PRWEB) January 04, 2016
NETA, the InterNational Electrical Testing Association, has named Electrical Power Equipment Maintenance and Testing, Second Edition (published by Marcel Dekker) its January Book of the Month, featuring author Paul Gill's definitive guide to power system reliability for $149.00. This hardcover book — and many other resources of value to electrical testing and maintenance professionals — is available through the online NETA Bookstore.
This 959-page practical guide provides comprehensive and up-to-date information on the testing and maintenance of electrical power systems equipment and apparatus found in utility, industrial, commercial, and institutional facilities. The guide demonstrates when and how to perform the appropriate tests to help ensure maximum operational reliability by integrating basic principles, theory, and practice. Electrical Power Equipment Maintenance and Testing:

Discusses routine (field) and preoperational (acceptance) testing and maintenance procedures for assessing equipment reliability and dependability.
Shows how to inspect and test equipment and apparatus insulation integrity and other operating characteristics affecting performance.
Evaluates and interprets results for each category of testing, assisting decision making on when to remove equipment from service — before failure occurs.
Elucidates equipment degradation mechanisms and their impact on reliability and efficiency by detailing failure modes and effects.
Emphasizes the implementation of planned maintenance and testing programs, which helps ensure early detection of problems and prevention of expensive downtime by minimizing unplanned failures.
To boost its effectiveness, Electrical Power Equipment Maintenance and Testing contains references, equations, and photographs as well as numerous tables and test connection diagrams. This valuable resource is useful for electrical and electronics, industrial, transmission, distribution, power, and energy engineers and technicians. Maintenance and operational personnel at electrical facilities, plant managers and electrical utility personnel, technical personnel from electrical consulting and construction firms, manufacturing companies, electrical trade associations, and electrical testing companies will find it an invaluable tool.
In addition, graduate-level students in these disciplines will value Electrical Power Equipment Maintenance and Testing for its comprehensive coverage of the topics necessary to advance their learning to the next level and serve as a go-to resource for future studies.
To take advantage the January Book of the Month offer, visit the NETA Bookstore.
ABOUT NETA
NETA is an ANSI Accredited Standards Developing Organization that creates and maintains standards for electrical maintenance and acceptance testing for electrical power equipment and systems, as well as a standard that addresses the certification of electrical testing technicians. NETA is an association of leading electrical testing companies comprised of visionaries committed to advancing the industry standards for power system installation and maintenance to ensure the highest level of reliability and safety.