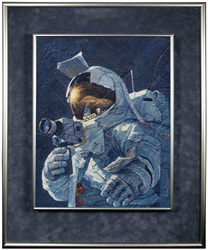 Alan Bean and his astroartistry recreate the drama and excitement of man's exploration of the moon as only could be chronicled by one who has been there. —Neil Armstrong, Apollo Astronaut
St. Louis, Missouri (PRWEB) December 31, 2015
RegencySuperior, a well-known and leading auctioneer of stamps, historical documents, space and other fine collectibles, is offering an original painting by Apollo astronaut Alan Bean to be auctioned 'live' on the internet on Wednesday, January 6th at http://www.RegencySuperior.com.
Titled 'My Brother, Jim Irwin,' this textured acrylic painting is infused with Moon dust on aircraft plywood, measuring 14"x18", and framed to 21"x24". The portrait is of Apollo 15 astronaut, Jim Irwin. Done in shades of blue and a whole palette of pastels, this work is simply breathtaking.
As the Lunar Module Pilot of Apollo 12, Alan Bean was the fourth man to set foot on the moon. He explored the beautifully desolate landscape of the Ocean of Storms and later, as commander of Skylab Mission II, Alan spent 59 days in orbit around our fragile, blue-and-white Earth.
Alan had been painting earthbound subjects for many years by the time he began training to pilot the space shuttle, but his fellow astronauts convinced him to paint his experiences on the moon. "You can create the very first paintings in all of history of a place other than our own planet," they said. "Your paintings will forever be the first paintings of the many other worlds humans will visit as the centuries unfold." Because of this unprecedented opportunity and challenge, Alan resigned from NASA in 1981 to devote all of his time and energy to painting.
Over the years, Alan's art has evolved into a mixture of painting and sculpture, textured with lunar tools, sprinkled with bits of Apollo spacecraft and a touch of Moon dust. Alan remarked "When I walked on the Moon in November of 1969 I found it to be a strikingly beautiful world, though rough and unpolished. I want my paintings to reflect these very same feelings. To do this, I create a special texture on the front of the panel before I ever begin to paint the image. First, I start by covering the entire surface with a thick texturing compound. I test it carefully and, at just the right time, I begin to work on it with the same lunar tools I used on the Moon during my Apollo XII mission."
The artist describes the inspiration of this particular piece as follows: "Jim Irwin was assigned as my backup on Apollo 12. He knew his job extremely well and I knew that if anything happened to me at the last minute, Jim would fit right in with Pete Conrad and Dick Gordon. Jim got his chance to fly in space in July of 1971 as Lunar Module Pilot on Apollo 15. Jim and Dave Scott worked extremely hard during their three day stay on the Moon. They both displayed some heart irregularities."
Jim Irwin had described being on the Moon as a deeply spiritual experience. After all the post-flight activities were complete, Jim left NASA and founded High Flight, an interdenominational evangelical organization to witness his experience. Less than two years later, Jim experienced the first of several serious heart attacks. He felt that his physical efforts on the Moon, combined with the way the human body eliminates excessive potassium and other minerals in zero gravity, had damaged his heart.
Jim and Alan would see each other from time to time at astronaut reunions or in airports, and when they parted company, Jim would put his arm around Alan and would say, "Well, I hope I see you again soon, brother." It was a surprise for Alan the first few times as that isn't the way one astronaut talks to another, and Alan didn't know what to say. Jim Irwin died of a heart attack in 1991 at the age of sixty-one. Alan regretted his inability to speak about how he really felt to this day. He thinks of Jim often and misses him and respects him as a brother he never had.
On this painting, Bean writes the title 'My Brother, Jim Irwin' on both reverse plywood and frame. The auction lot includes a 5"x7" image of the painting, a transparency and an Apollo art book where he explains the process behind creating this painting in both images and words, all signed by Alan Bean.
Online bidding is available at http://www.RegencySuperior.com, and includes description, estimates and up-to-date opening bids. Additionally, collectors will be able to bid live online during the sale which begins at 11am Central Time, Wednesday, January 6th.
............................
Reviews of Alan Bean's artwork:
Louis A. Zona, Director and Chief Curator, The Butler Institute of American Art
As works of art, the paintings of Alan Bean might very well be seen as the contemporary counterpart of the 19th century landscapes of Bierstadt and Thomas Moran. Both of these actually were doing much more than documenting geography. They were, in fact, creating powerful and engaging works of art that are aesthetically splendid. Alan Bean's paintings, with their magical sense of light and wondrous ability to reveal subtleties, delight us on purely aesthetic levels, independent of their scientific message. Great art, after all, speaks in universals and moves well beyond message. Just as Michelangelo's works can be appreciated even by those who are not aware of their religious significance, the art of Alan Bean, I believe, will have a staying power by virtue of the skillful application of paint, outstanding composition and overall artistry. Generations to come may indeed place the name Alan Bean next to that of Bierstadt and Moran – it would certainly be appropriate.
Neil Armstrong, Apollo Astronaut
Alan Bean and his astroartistry recreate the drama and excitement of man's exploration of the moon as only could be chronicled by one who has been there.
Buzz Aldrin, Apollo Astronaut
These paintings capture the spirit of our highest hopes and aspirations. As a nation we set our sights to accomplish a near-impossible goal of walking on the moon. Only one artist was present to witness and tell the story.
Tom Hanks, Actor and Academy Award Winner
What one must understand about Alan Bean is he is the only artist to have ever walked on the moon. No poet has ever been to the lunar surface, nor any journalist, architect nor songwriter. In the realm of the Arts, it has fallen upon Alan Bean to be the one moonwalker to turn hard data brought back from the moon into something other than numbered photographs. The images that Al has committed to canvas, then, are important, inspiring, and priceless works of art. Not only has he painted the moon, he's been there.
John Glenn, U.S. Senator and NASA Astronaut
He saw the same monochromatic world as the other astronauts, yet with an artist's eye he also saw intrinsic beauty in the rocks and boulders and their textures and shapes.