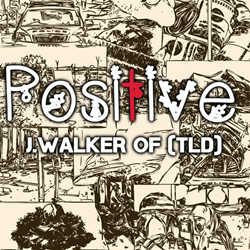 Miami, FL (PRWEB) December 30, 2015
Today Coast 2 Coast Mixtapes announces the release of "Positive", the latest mixtape by UK recording artist J.Walker of TLD. The Mixtape is currently available for streaming and download at the Coast 2 Coast Mixtapes website.
"Positive" creates a definition of gospel rap by itself. The Lion's Denn record label do what they usually do and experiment with current hip hop and urban sounds while keeping a gospel message in the lyrics. This is the first Mixtape by J.Walker of TLD, but his second major project. The concept of the album is based on the chase for a positive life, a positive mind and what our mind considers to be positive and negative.
The artist approaches a range of issues such as a dysfunctional childhood, abortion and gang violence while trying to keep a positive outlook throughout. The music remains up-tempo through hard hitting trap beats and cutting synths while often having a darker undertone to the lyrical content and issues being addressed. Social issues and more niche Christian problems are talked about such as the rapper telling his girlfriend he plans to be baptized and born again.
J.Walker switches between flows with rapid-fire lyrics on tracks like 'Save Everybody' and a more spoken word style delivery on songs like 'A Dad' and 'Positive'. The tracks are also produced by J.Walker with the rapper doubling up as a lyricist and beat maker. The album feels like an authentic journey into urban rap music and the rap melodies evident in the hooks across the album mirror the new style of radio friendly catchy hip hop tracks. The verses are often packed full of lyrical content however with references to scripture all over the album.
The mixtape features 14 tracks, including those below:
1. God And Google
2. Ned Flanders
3. Faith Child
4. Devil May Cry
5. Start It All Over
6. Positive
7. I Been Thinking
8. A Dad
9. Grace
10. Live Forever
11. Reflections
12. JOE
13. Save Everybody
14. The Christmas Story
J.Walker is currently seeking press opportunities, interviews, features, and more. He can be reached through the official Lion's Den Music website.
About J.Walker: "Some of my earliest memories involve rushing from primary school to church with my mum in the evenings after school. My greatest contribution to the faith at this point was helping to put out the chairs in rows of 12. We'd be in church at least four days a week and when I wasn't to tired to keep my eyes open any longer I learned many lessons and felt God's presence.
I feel like I've grown up always knowing and having a relationship with God. Not having my father around in these early years meant that there was more room for God and I could hear his voice clearly and uninterrupted. I feel the absence of positivity in my childhood is one of the reasons why God adopted me the way he did and continues to watch over me so closely to this day.
Growing up I went through many different fazes on my winding journey through childhood and teenage years. I never felt forsaken by God however and even on my darkest nights I knew He and His Angels were never too far away. College would however be a turning point as I was baptized and started dealing with meat rather than milk. I became more aware of my responsibilities as Christian and God's expectations and his plan for me.
It was also at this point that I became aware of Gospel rap. I had been working on music for about 3 years at this point and was rapping as well as producing and mixing. I was making secular music, but largely with a conscious message. As I became older and had more adult experiences there was however a shift in the content. The music reflected the harsh realities I was dealing with and I used the music as a bottle to capture my negative feelings and share them with the world.
Some of my Christian brothers pleaded with me to turn away from secular music and throw away my secular CD's but I justified my actions as truth, also I didn't feel called to gospel rap and I definitely didn't want the responsibility. As I moved on my Christian walk through life I was however noticing that God and Christianity kept appearing in my music, it even started becoming the whole song and I realized that some of the songs I was making could be quantified as gospel rap.
I started seeking out other artists and signed to the gospel label "Rock Steady Movement" as an artist and producer. I learned a lot during my time there but struggled to adapt to the label's way of doing things. Finding the right gospel label can be a lot like finding the right church, if you're not growing there you need to move on. I had however learned a lot from my time there, which was about 6 months and we both went our separate ways without any hard feelings.
I had still been making secular music while on the gospel label and it felt like I had an outlet for all my thoughts, perfect and imperfect. I now had half of what felt like an amazing Hip Hop album complete. I was talking to designers about the album cover and thinking about the running order and what they album was missing to complete it.
I was attending Hillsong church at this point and noticed there was an extra large queue outside because of a guest preacher named Rich Wilkerson Jr. The words he spoke would change my life and answer all the questions I had posed to God. He told the story of Jonah and the Whale from a perspective I had never heard before. Key to his message was that you should have no worries if you're where God wants you to be and are doing what God wants you to do. The first time Jonah was where God wanted him to be was when he was in the belly of the whale. I'd said all along if God called me to Gospel I'd answer and I was called that day.
As a result in 2012 I established the gospel record label (The Lion's Den). At this point I had been rapping and producing for quite a few years. I no longer relied on others to be able to create music and I felt that I could create more material than I could use. I wanted to explore how I could stretch and twist gospel music moving it forward. Through the relationships I had I was able to sign a number of artists to the label and produce their records. The culmination of this was the 2013 album "The Baptism". It was a compilation album featuring tracks from the artists on the label.
Rather than releasing traditional music videos to accompany the album we created a 2 part short film entitled "Sunday to Sunday". The films featured music from the album.
Throughout 2014 I worked on my debut gospel album entitled "I'm A Christian." The album was created to encapsulate the different dimensions of the modern day Christian and present a Christian to the world who is capable of error and is human. The issue of identity is also prevalent as the identity of being a Christian is pushed to the forefront.
The album explores the Hip-Hop genre musically with a gospel message running throughout. Church organs and piano keys incorporate the gospel sound and are combined with Hip Hop drums and basslines to create a unique sound. The album features members of (The Lion's Den) which add to the gospel sound with more typical church style choruses. Three videos were filmed to accompany the tracks "I'm A Christian, Whispers" and "Angel Of My Own"."
For more info on J.Walker and TDL, visit their official Facebook fan page.
About Coast 2 Coast Mixtapes: Coast 2 Coast Mixtapes are the most widely distributed mixtapes in the world, with over 100 million downloads/plays generated by over 300 volumes officially hosted by major artists. Coast 2 Coast has a solid reach in the new music industry with a digital magazine, DJ coalition, industry tips blog, yearly convention, and more. Coast 2 Coast Mixtapes represents a unique opportunity for artists of all urban genres, from major to indie. For more information, visit http://www.coast2coastmixtapes.com.