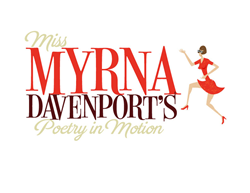 Lanesboro's Eden-like qualities are often what draw tourists and new residents here.
Minneapolis, MN (PRWEB) January 14, 2016
Lanesboro, Minnesota is well known for its summer fun of bike riding, B & B stays, kayaking and tubing on the Root River, theatre, art openings, and various festivals, but like many tourist towns it goes dormant over the winter months. Local theatre artist, and former EDA member, Catherine Glynn listened to the ideas being bandied about and applied for a Southeastern Minnesota Arts Council (SEMAC) grant to specifically target winter activities in the area.
In August, Glynn was awarded a SEMAC Established Artist grant to write and perform a new one woman show entitled, Miss Myrna Davenport's Poetry in Motion. Her new play centers around a renegade substitute teacher who uses music, dance and metaphor to teach her classes. (This activity is made possible by the voters of Minnesota thanks to a legislative appropriation from the arts & cultural heritage fund.)
Glynn says she picked the theme "Winter in Eden" based on a Robert Frost poem because, "Lanesboro's Eden-like qualities are often what draw tourists and new residents here "
Last year for Valentine's Weekend, Glynn and local artists Michael Seiler and Liz Bucheit of Crown Trout Jewelers promoted another weekend event called "An Amthyst Remembrance" based on an Emily Dickinson poem. Glynn performed the one woman show, "The Belle of Amherst," about Emily Dickinson, Seiler held his SEMAC capstone event for casting, and Bucheit offered her Saami bracelet making class. Local restauranteurs and B & B's joined also forces to make it a truly festive Valentine's weekend.
Scheduled Events:
Jan. 29: 7:30pm A new play reading at the Commonweal Theatre Company by Apprentice David Wasserman Commonweal Theatre
Jan. 29: Evertt Smithson Band at the High Court Pub.
Jan. 30: 10am -5pm Saami Bracelet making with Liz Bucheit at Crown Trout Jewelers--space in the course is still available
Jan 30: 9am-4 pm Three classes scheduled at Eagle Bluff Learning Center Skills School
Jan 30: 7:30pm SEMAC Capstone Event: World premiere of Miss Myrna Davenport's Poetry in Motion with talk back at Lanesboro Arts/ St. Mane Theatre (Opening night party at the HighCourt Pub)
Feb. 5: 7:30 pm Miss Myrna Davenport's Poetry in Motion at the St. Mane Theatre (After party at the American Legion)
Feb. 6: 11am Coffee Talk with Miss Myrna at Community Grounds Market
Feb. 6: 5pm-8pm Whalan Candlelight Ski for more details
Feb. 6: 6-8pm Lanesboro Arts Opening Backyard Splendor
Feb. 7: 1:30pm Miss Myrna Davenport's Poetry in Motion with audience talkback
Additional events and activities will be added in the coming weeks.
Lanesboro looks to stay active all winter long, with a winter reprisal of the Commonweal Theatre's performance of the "Outside Mullingar" on Valentine's weekend, and several other activities through the City, Lanesboro Arts, and Eagle Bluff Environmental Learning Center. Glynn, says her hope is for those who brave the elements and join the residents of Lanesboro this winter, they will find out just what a paradise it can be.