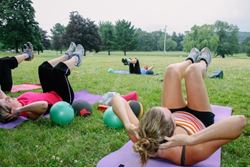 FitBody Personal Training LLC Announces New Boot Camp Class Dates for the New Year
Kimberton, PA (PRWEB) December 31, 2015
The beginning of 2016 is here and Fitbody Personal Training LLC announces new dates and times for the next session of boot camp classes. Participants should get ready for a fun way to take workouts away from the gym and prepare to energize the body with a challenging workout from FitBody Personal Training LLC, hosted by Carolyn Grashof.
Personal trainer near King of Prussia PA, Carolyn Grashof, offers indoor boot camp classes. Monday and Thursday night classes will run on a 4-week session and Saturday and Saturday morning classes will run on a 5-week session. The dates and times are listed below for the New Year:
Monday classes: January 4 – January 25, 2016 now at 7:00 p.m.
Thursday classes: January 7 – January 28, 2016 at 6:30 p.m.
Saturday classes: January 2 – January 30, 2016 at 7:45 a.m.
Sunday classes: January 3 – January 31, 2016 at 8:30 a.m.
The location of the fun and energetic personal training classes is, Phoenixville, PA. Monday, Saturday and Sunday classes are located at the Civic Center on 123 Main Street in Phoenixville, PA 19460. Thursday class indoor location is at Phoenix Hook Hose and Ladder Co., on 177 Church Street in Phoenixville, PA 19460.
FitBody Personal Training LLC was started by Carolyn Grashof who has been a group fitness instructor since 1997 and has been practicing personal training since 2002. Carolyn is a highly energetic person and motives people to get in shape. She specializes in Pilates, cardio kickboxing, spinning, athletic step, pool fitness, interval training, boot camp classes to name a few. Her expertise also includes posture, strength, cardio conditioning, and flexibility programs to suit her clients' body and goals.
For more information about FitBody Personal Training LLC or Carolyn, visit http://www.fitbodyforeverybody.com or email carolyn@fitbodyforeverybody.com