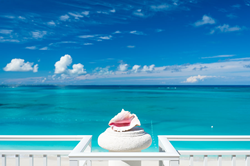 "This is a wonderful way to attract new guests to our boutique resort. Once they are here, they return year after year." Terria Misick, General Manager
Providenciales, Turks & Caicos Islands, BWI (PRWEB) December 31, 2015
The Venetian on Grace Bay, ranked #3 out of the 44 resorts on the island of Providenciales by TripAdvisor, is excited about the new non-stop flight from Chicago to Providenciales, Turks & Caicos Islands. United Airline's inaugural flight was on December 19, 2015, and with the flight being full, lets the airline know that this will be a very popular flight over the winter of 2016. The new direct flights between wintry Chicago and toasty Turks & Caicos will come just in time for the chilly winter travel season.
The outbound Boeing 737-800 flight will depart from Chicago Saturdays at 10:40 am, arriving into Providencailes at 3:40 pm. Return flights depart Providenciales at 1:49 pm and arrive in Chicago at 5:09 pm.
If travelers are committed to lowering their ecological footprint, take heart: the Boeing 737-800 is configured to use a low-emission bio-fuel derived from algae called solaget.
There are now more direct flights than ever going to Providenciales. Some cities offering non-stop flights are Ft. Lauderdale, Miami, Houston, Dallas, Atlanta, Charlotte, New York, Boston, Philadelphia, Toronto and Montreal.
The new non-stop flights to Turks & Caicos come after Grace Bay was ranked as the #2 beach in the world by TripAdvisor earlier in 2015 and the island of Providenciales itself received a 2015 TrpAdvisor Travellers' Choice Award.
The Venetian on Grace Bay, one of Provo's premier boutique resorts in the Turks & Caicos, is ranked #3 out of the 44 resorts on the island by TripAdvisor. The Venetian is celebrating the new additional flights so that guests can travel with much ease to the island this winter. The Venetian is pleased to offer the following winter special to its guests: from January 3rd to February 3rd, 2016, relax on a quiet stretch of beach in front of the Venetian and enjoy every fourth and seventh nights complimentary. This applies on all one, two, or three bedroom rentals.
"This is a wonderful way to attract new guests to our boutique resort. Once they are here, they return year after year," says Terria Misick, resort general manager.
This special is offered on all new reservations and interested parties can call (toll free) 1-800-242-0969 or go to the Venetian's website at http://www.thevenetiangracebay.com.
Located just 15 minutes from the recently renovated Providenciales International Airport, The Venetian offers the ultimate in privacy and luxury. The oceanfront villas range in size from 2200 square feet to penthouse suites offering 3200 square feet of well-appointed furnishings and amazing views from the screened in patios. Each of the 27 suites has a distinct ambiance and decor as well.
For more information, please visit http://www.thevenetiangracebay.com or call 1-866-242-0969.