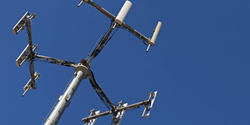 "We are excited to give Florida and Georgia rural residents and businesses the high speed internet options that, before now, have been severely limited." - Ivan Cooper, Jupiter Broadband Co-Founder
(PRWEB) December 31, 2015
Jupiter Broadband, headquartered in Jacksonville, Florida, has just joined a larger community of internet service providers to bring high speed internet to rural and suburban Florida and Georgia - and, through a strategic partnership, to similar communities nationwide.
The innovative team at Jupiter, with the help of private-equity funding from Atlanta-based Apex Ventures, has invested in and constructed a large group of local fixed wireless internet towers, dubbed "Jupiter BB" towers to provide a fixed wireless internet solution to customers located in the areas ranging, from west to east, from Tallahassee, FL to Jacksonville, FL and, from north to south, from Macon, GA to Spring Hill, FL (just north of Tampa). All told, the coverage area serviced by the Jupiter Broadband network is almost 50,000 square miles.
Said Ivan Cooper, a co-founder of Jupiter Broadband, "We are excited to give rural residents and businesses the high speed internet options that, before now, have been severely limited where we have started our operations."
Jupiter's fixed wireless system operates from data links established between residences or businesses and one of the single-access point Jupiter BB towers to provide a more affordable alternative to extending cable or leasing fiber networks.
Additionally, Jupiter Broadband has partnered with Exede Satellite Internet service, a national satellite broadband provider, to help bridge the gap between urban communities with access to cable and fiber networks and rural and suburban communities that often only have dial-up available to them.
Jupiter Broadband offers both residential and mission-critical, dedicated business internet service. Service plans start at $59.99/month and offer speeds up to 15mbps.
Jupiter Broadband is in negotiations now for the construction of 4 more fixed wireless towers that would give the company expanded coverage in Georgia and Alabama.