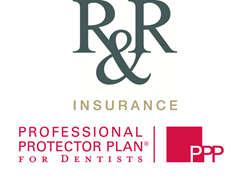 Tampa, FL (PRWEB) January 15, 2016
The Professional Protector Plan® for Dentists, a leading professional liability insurance provider for dentists nationwide, announced today the appointment of R&R Insurance Services as the new Wisconsin State Administrator effective January 15, 2016. This new relationship continues PPP's ongoing efforts to offer integrated insurance solutions to the dental community of Wisconsin.
"Partnering with PPP on the dentist program strengthens our focus in the healthcare industry and allows us to maintain local presence serving Wisconsin businesses. This is a great established program that dentists have learned to trust over the years. As R&R Insurance is celebrating 40 years, we couldn't be more excited to continue our vision of investing in and providing services to help Dentists serve their customers." -Jack Riesch, Owner & Executive Vice President of R&R Insurance Services, Inc.
R&R Insurance provides quality service that makes a great pairing with the superb coverage of the Professional Protector Plan for Dentists. The PPP has been dedicated to serving the insurance needs of the Wisconsin dental community since 1982. As the first fully integrated insurance program for dentists in the United States, the PPP combines Professional Liability, General Liability, and Property insurance into one policy.
Dentists have come to expect a policy catered to meet their unique dental practice exposures. With product offerings such as temporary dental services, available to insureds with property coverage, that provides assistance locating a temporary dental facility and securing a lease after certain damage to the dental practice arising from a catastrophic event. Services include necessary building modifications and installation of temporary equipment to resume day-to-day operations.
"We are excited about the new relationship with R&R Insurance Services, Inc, a top notch agency that delivers exceptional service and has an unparalleled commitment to meet and exceed the diverse needs of our insured dentists, all through one agency. Our program was designed to be a one stop shop and R&R Insurance Services fulfills this goal for Wisconsin dentists." -Susan Heath, Executive Vice President, Professional Protector Plan® for Dentists.
Key Facts of the PPP:

Over 33,000 dentists insured nationwide
Comprehensive program designed specifically for dentists
Currently considered the preferred program by 17 state dental societies and/or associations
Link: Professional Protector Plan for Dentists
About R&R Insurance Services, Inc.
R&R Insurance Services, Inc. has served the insurance needs of southeastern Wisconsin since 1975. Today, R&R is Wisconsin's largest singly owned independent insurance agency offering businesses and individuals a full range of insurance products including property casualty, employee benefits, workers compensation, liability, life, dental and home/auto. R&R is also a shareholder with Assurex Global, a worldwide network of leading independent insurance agencies. For information about R&R Insurance Services, visit R&R online at http://www.myknowledgebroker.com.
About The Professional Protector Plan® for Dentists:
Through their network of specialized agents, the PPP has been serving dentists nationwide since 1969. This comprehensive insurance program was developed specifically for the dental practice by providing insurance protection through professional liability insurance, general liability, employment practice liability, workers' compensation, and property insurance products. Underwritten by CNA, rated "A" (excellent) by AM Best for financial stability, the PPP has proven to be a stable force in the dental professional liability marketplace. The plan is offered in all 50 states plus Puerto Rico and the Virgin Islands, and insures approximately 33,000 dentists nationwide.
For more information on the insurance products for dentists and risk management services the PPP has to offer, visit our website.