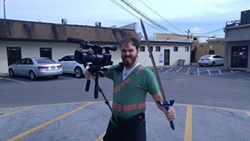 If it wasn't for Connecticut School of Broadcasting I'd still be doing plumbing.
Tampa, FL (PRWEB) January 04, 2016
This time last year, 27 year old James Hunsberger realized that his career in plumbing just wasn't for him and he decided to take a chance on following his dream of working in the broadcasting industry. After graduating from the Connecticut School of Broadcasting's Tampa Campus in March, he landed an internship at Tampa Bay Multimedia, and just recently was offered a full time job as a Video Editor, Producer & Technical Director!
It's been a life changing experience says James, "I was working crazy hours and doing something I just didn't like to do. Working out in the heat all day long was not for me, so I tried something different, a shot in the dark, and it worked out. If it wasn't for Connecticut School of Broadcasting I'd still be doing plumbing. Today we are shooting a video where I get to wear all sorts of crazy things. No other job can I bring a sword into work and it's acceptable. I love it!" CSB Tampa Director Shayna King says James found out a lot about himself in the short time he trained at the campus, "James came here thinking he wanted a radio career, but fell in love with video editing. That's one of the great things about our school. You get exposed to so many things under that broadcasting umbrella. You learn something different almost every day, from a different instructor almost every day, and every instructor is from a TV station, Radio Station or Production House. They all teach in a hands on way that gives folks like James a chance to find out what is really calling to their heart. And, in the case of James, it happened so quickly. We are so happy for him!"