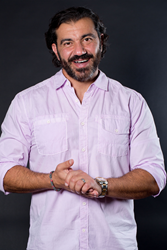 He comes with a background in health and fitness assessments and has conducted wellness programs for Chevron, Texaco, Exxon, Volcom and Nike just to name a few
Irvine, Calif. (PRWEB) January 04, 2016
Bedros Keuilian, creator of PTPower and founder of the popular Fit Body Boot Camp franchise, presents the 2016 Fitness Business Summit taking place March 18-20, 2016 in Irvine, California. Dr. Mark Kelly, fitness industry expert on physiology, will be giving seminars on training systems, technology usage and improving human performance and quality of life through proper fitness techniques.
Next year's event is set to be the largest in the series, with multiple fitness business experts giving coaching talks to boot camp owners, personal trainers, fitness professionals and coaches on marketing techniques and how to succeed in the industry. The event will be niche market friendly and is open to those that are new to the industry as well as veterans.
Dr. Mark Kelley has been involved in the fitness industry for 30 years and has served as a professor at various universities on exercise physiology. He also served as an exercise physiologist for the American Council on Exercise, a corporate wellness director and is considered a master fitness trainer.
"He comes with a background in health and fitness assessments and has conducted wellness programs for Chevron, Texaco, Exxon, Volcom and Nike just to name a few," explains Bedros. "He is currently on the Board of Directors for the Functional Aging Institute, Chief Science Officer for Baraka Community Wellness, does webinars for the Medical Fitness Association, and teaches Kinesiology at Santa Ana Community College. This guy is a wealth of knowledge in the fitness industry."
Mark has stated that his father is most likely his greatest influence in life. Inspired by his dad's generosity and kindness, the doctor is very passionate about the medical application of exercise. He looks to help people with chronic disease improve their quality of life through the application of exercise as medicine.
Dr. Kelley isn't only an academic, he is also a nationally ranked duathlete, marathoner, collegiate bowler and is currently a competitive trail and mud runner in his spare time. Mark has also led several studies in the fitness product industry, written personal training manuals and produced workshops, articles, webinars and educational courses in the fitness and health industries internationally.
Currently, Dr. Kelley is in the process of developing a complete training system, using technology, for assessments and programming to improve human performance and quality of life in the future.
Fitness Business Summit takes place March 18-20, 2016 in Irvine, California. Attendees are encouraged to wear fitness casual and comfortable clothing during the main event and bring cocktail party attire for the networking party. To learn more about the event, visit the official website: http://fitnessbusinesssummit.com/
About PTPower:
To find out more about Bedros Keuilian, his company PTPower.com and the fitness boot camp franchise, Fit Body Boot Camp, contact Bedros Keuilian at (800) 261-0208. Alternatively, you may use the contact form at http://ptpower.com/contact-me/ or send an email to Bedros Keuilian at support(at)keuilian(dot)com.