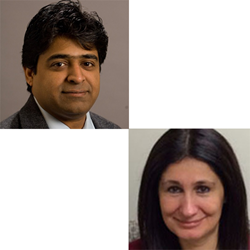 Yorba Linda, CA (PRWEB) January 07, 2016
What is the best technology to fortify one's research? The capabilities of next generation sequencing (NGS) for RNA (RNA-Seq) have grown considerably in the past decade, as this technology is more in-demand for examining the transcriptome of a range of complex diseases. RNA-Seq is a suitable technology for de novo discovery—however, it has serious limitations when it comes to very deep sequencing, especially for detecting low abundance transcripts and alternative splicing events. Choosing to increase sequencing depth can trigger markedly higher costs and demand extensive expertise in bioinformatics to fully analyze data. There is now broad recognition from the scientific community that certain applications are best served by arrays, others by RNA-Seq—and, utilizing these two technologies together can prove fruitful for expression studies.
Affymetrix is sponsoring a new, free educational webinar, "Arrays or RNA-Seq? Choosing the right tool for the job.," which will discuss the pros and cons of these technologies and the applications for which each platform is best suited. The speakers will show how arrays and RNA-Seq can be used to complement each other, and describe how Affymetrix's newly developed next generation arrays can be useful in conquering limitations of RNA-Seq in research and clinical environments. A live Q&A session will follow the presentations. The speakers are Sridar Chittur, PhD, MBA, and Yesim Gökmen-Polar, PhD.
Dr. Chittur is a research associate professor in the Department of Biomedical Sciences at the University at Albany's School of Public Health, and director of the Microarray and High Throughput DNA Sequencing Core at the Center for Functional Genomics. His research interests include epigenetics, high throughput screening technologies, and drug discovery. Dr. Chittur is an active member of the Association of Biomolecular Facilities (ABRF), and participates in several ABRF research groups that focus on studies of nucleic acids, genomics, and flow cytometry. He received a PhD in medicinal chemistry from West Virginia University, and an MBA in new venture development from the University at Albany. Dr. Chittur's post-doctoral training is in enzymology/pharmacology at the Purdue University School of Pharmacy, and he has worked at Myomatrix Therapeutics LLC.
Dr. Gökmen-Polar is an assistant research professor in the Department of Pathology and Laboratory Medicine at the Indiana University School of Medicine. Her research interests focus on the identification and characterization of novel prognostic and therapeutic targets in breast cancer and thymic cancer. Dr. Gökmen-Polar has about 50 publications, chiefly in the field of cancer biology. Her expertise is in development of novel therapeutic targets in colon and breast cancer, and thymic malignancies. Her lab developed and characterized a novel human thymoma model that was derived from a patient with the stage II thymoma (WHO type A/B). Her current research uses NGS, microarrays, and computational tools to understand the transcriptional regulation by non-coding RNAs and alternative splicing that contribute to ER+ recurrence/metastasis.
The complementary webinar, hosted by LabRoots, will be presented on February 2, 2016, at 9 am Pacific Time/12 pm Eastern Time.
For full details about the event and free registration, click here.
About Affymetrix:
Affymetrix, a pioneer in microarray technology and a leader in genomics analysis, develops and provides innovative technologies that enable multiplex and parallel analysis of biological systems at the cell, protein, and gene level, facilitating the rapid translation of results into biology. The company's extensive portfolio of translational and clinical solutions helps scientists and clinicians rapidly translate their research into understanding underlying disease mechanisms, identifying biomarkers for personalized medicine, creating novel molecular diagnostic tests, and improving genetic marker-assisted breeding programs for human health and wellness.
About LabRoots:
LabRoots is the leading scientific social networking website and producer of educational virtual events and webinars. Contributing to the advancement of science through content sharing capabilities, LabRoots is a powerful advocate in amplifying global networks and communities. Founded in 2008, LabRoots emphasizes digital innovation in scientific collaboration and learning, and is a primary source for current scientific news, webinars, virtual conferences, and more. LabRoots is the owner and producer of BioConference Live – which has grown into the world's largest series of virtual events within the Life Sciences and Clinical Diagnostics community.