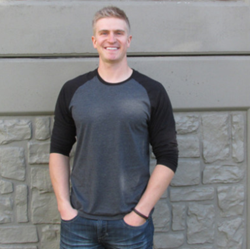 I want to first and foremost help individuals who struggle with their health
Lethbridge, Alberta (PRWEB) January 04, 2016
Jarred Kotkas, owner of the Lethbridge Fit Body Boot Camp, will be holding a Grand Opening celebration on January 16th from 10am to 2pm at 1218 2nd Ave, South Lethbridge, Alberta T1J0E3 for the new Canadian location. Kotkas will be giving away memberships, holding boot camps, doing a meet and greet along with hosting a podcast while the event is going on. The Lethbridge Food Bank will also be accepting cash and non-perishable food donations at the event as part of their "food share" program to provide meals to families in need.
Fit Body Boot Camp is the world's fastest growing and most popular indoor fitness boot camp brand, with hundreds of locations worldwide. The boot camp's unique brand of fitness combines individualized personal training from licensed professionals, clinically proven Afterburn workouts, and nutritional guidance to guarantee weight loss results.
Jarred has been passionate about helping others get in shape for several years now, and believes in donating to food banks as part of his mission for health.
"We opened a Fit Body Boot Camp because we wanted to reach out and support as many people as possible in finally getting fit and healthy," said Kotkas. "I want to first and foremost help individuals who struggle with their health, but we feel it is important to support organizations [like Lethbridge Food Bank] because everyone deserves to be able to feed and nourish their mind, body and soul."
At the event Jarred is going to be doing drawings for memberships along with several boot camp sessions. He will also be doing meet and greets with attendees along with a podcast.
Local businesses such as Red Engine Roasting, Brio Salon, Urban Grocer, Human Powered and One Tooth Active Wear will all be contributing to the event as well to bring the community together. The Lethbridge Food Bank will be there collecting non-perishable donations as well.
Lethbridge is a quickly growing area, and the Lethbridge Food Bank relies on donations from the surrounding community in order to help families in need through their "food share" program. They see this program as a short term solution to a larger problem and work to help people in the long term while providing immediate assistance.
About Lethbridge Fit Body Boot Camp:
Lethbridge Fit Body Boot Camp is a part of the Fit Body Boot Camp family of indoor fitness boot camps, whose global goal is to engage 20% of the world's population in a healthy and fit lifestyle by the year 2020. Lethbridge Fit Body Boot Camp is owned and operated by Jarred Kotkas. Kotkas is committed to helping members of the Lethbridge community set and accomplish their own health and fitness goals.
For more information about Lethbridge Fit Body Boot Camp, please call: (403) 795-1137
Visit their website at: http://www.canadafitbodybootcamp.ca/lethbridgefitnessbootcamp/
Or their Facebook page at: https://www.facebook.com/LethbridgeFitBodyBootCamp/