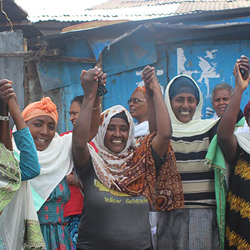 We cannot tolerate seeing any of us suffer. We don't need any assistance from outside, we knew that we can help each other
San Diego, CA (PRWEB) December 31, 2015
Every September, parents in Ethiopia must spend money on school materials for their children. And this leaves a huge burden for those who don't have enough income to cover extra costs.
A young mother to 7-year-old Nathanael, Mame feels that financial strain of these school fees. When she was 6 months pregnant, her husband left. She was lonely, supporting her son by herself and living in a desperate situation.
Mame shared her story after she joined the "Lemlem Tabia" Women Empowered (WE) group in Addis Ababa, a decision that brought her both hope and happiness.
Women Empowered (WE) is a PCI global initiative designed to promote the economic and social advancement of women, unlocking their potential as leaders within their families and their communities. Through the initiative, PCI and partners form savings groups with women that integrate social, human, and financial capital development over a period of roughly 18 months, after which groups are able to function on their own without outside support. Globally, the Women Empowered (WE) Initiative has formed more than 32,000 savings groups with over 438,000 members who have saved $3.5 million.
Along with Mame, many Women Empowered (WE) members were struggling to buy school materials for their children. During a weekly Women Empowered (WE) meeting this past September in Addis Ababa, Ethiopia, seven Women Empowered (WE) groups gathered to discuss ways to provide school supplies for the 2016 school year for families who were struggling.
Hamlet, a Women Empowered (WE) community facilitator, initiated the meeting and the group members worked together to find a solution. She played a significant role in organizing representatives from all seven of these groups to set a day to distribute the materials to the students.
Based on the criteria the groups set together, they provided 16 children, including Nathanael, with school materials: exercise books, pens, pencils and erasers they needed for the school year.
To learn more about how PCI is empowering women please click here
ABOUT PCI: PCI is a global development organization that drives innovation from the ground up to enhance health, end hunger and overcome hardship—resulting in meaningful and measurable change in people's lives. PCI envisions a world where communities are able to provide for the health and well-being of their members, and children and families can achieve lives of hope, good health and self-sufficiency. For more information, visit http://www.pciglobal.org and follow @PCIglobal on Twitter.