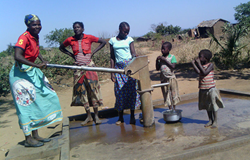 I am happy that finally the borehole has been repaired and cases of diarrhea due to drinking unsafe water from Rivirivi River is now the story of the past
San Diego, CA (PRWEB) December 31, 2015
The borehole was broken. It had been the main source of freshwater for a community in Malawi and now it was so damaged that people were fetching water from the Riviridzi River instead – a dangerous alternative.
After receiving training through their Women Empowered (WE) group, 32 women joined together to tackle this water crisis in their community.
The women initially started as a Rotating Savings and Credit Association (ROSCA) group, saving about 3,200 Malawian Kwacha (MK), or $6US, weekly as a group. After a year of saving successfully and building trust, the women approached a PCI Community Mobilizer to train them in our Women Empowered (WE) methodology.
The group members named their Women Empowered (WE) group Kachere and were trained on Women Empowered (WE) principles.
The women participated in social issues discussions to become more empowered to manage issues affecting their households and community. Through the WE trainings, Kachere identified one of the biggest issues in the village: lack of access to clean water.
The women approached the village chief, development committee and water committee and asked them to organize a community meeting to discuss how to fix the borehole.
During the meeting, the water committee shared that for the borehole to be repaired, a big pipe needed to be replaced. However, finding the funds to cover the cost of the pipe as well as the maintenance was an issue. The community agreed on a plan of action.
First, the community would write a letter to the Member of Parliament (MP) for the area to ask for assistance with the pipe. Second, the community members would contribute to a pool of money that would cover the cost of hiring the repair technician and the water point committee would manage the money.
The MP bought the pipe for the village, the community pooled their money to hire the repair technician, and the borehole started working once again.
After the borehole was repaired, the chief called for another community meeting to thank the Kachere Women Empowered (WE) group for initiating the first meeting to solve the water issue.
Along with Kachere, there are now two Women Empowered (WE) groups in the Magombera Village working to transform their community.
To learn more about how PCI helps fight the global water crisis please click here - http://www.pciglobal.org/water-crisis/
###
ABOUT PCI: PCI is a global development organization that drives innovation from the ground up to enhance health, end hunger and overcome hardship—resulting in meaningful and measurable change in people's lives. PCI envisions a world where communities are able to provide for the health and well-being of their members, and children and families can achieve lives of hope, good health and self-sufficiency. For more information, visit http://www.pciglobal.org and follow @PCIglobal on Twitter.